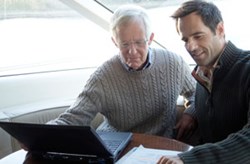 It might seem like the perfect arrangement: being the child of someone who operates a family business. Indeed, there are some plusses. However, those plusses also have a minus side.
Tampa, FL (PRWEB) August 16, 2013
According to Pew Research Center, 10,000 baby boomers are reaching retirement age per day, a reality noted in a recent Bloomberg Businessweek article that makes it all the more important for family business owners to be aware of the dos and don'ts regarding succession planning. FPMG, a performance management firm, has identified a number of challenges that can befall the next generation, along with some ways to overcome them.
"It might seem like the perfect arrangement: being the child of someone who operates a family business…so your career path is just about determined at birth," says Denise Federer, Ph.D., FPMG's founder. "Indeed, there are some plusses: you have plenty of time to get to know the business, you don't have to worry about the competitive landscape of interviewing and you probably feel you have job security.
"However, " Federer continues, "those plusses also have a minus side: you might have no interest in joining the business, you might not be qualified to take on the role you're given and you might feel stuck in a position that doesn't fulfill you. "
FPMG notes that even more challenges come to light when the issue of succession comes into play, but family businesses that have smooth transitions have three things in common:

Communication
Planning
Accountability
When even one of those elements is missing, problems can ensue, but Federer believes it's possible to incorporate all three into a successful transition plan that addresses any of the following business transition scenarios:
1. One owner passing the business to involved siblings. This situation will go smoothly if the siblings have defined roles and responsibilities, and all pull their weight. It's important that no one has an "entitlement attitude"; all siblings must hold themselves accountable and share the same passion and commitment to moving the business forward.
2. Partners or siblings passing the business to involved kids. This situation can be problematic in the best of cases, but it's especially tricky when the partners have different numbers of kids, i.e., one has just one and the other has two. The prudent way to handle this is to open the lines of communication as early as possible, and if necessary, enlist the services of a professional who can objectively view the situation and provide guidance based on what's best for the business. Being proactive is a must.
3. Dividing an estate that includes a family business between kids that do and don't work in it. What's critical here is to have a plan. For instance, it might make sense to gift the business to the kids who are involved in it, but gift other important assets—a building, home, cash—to the kids who aren't involved.
Federer notes that what's common to all three scenarios is that a succession plan is in place. When that's not the case, the result can be:

Feelings of frustration, anger and/or hopelessness about the future
Power struggles among siblings and between parents and children
Increased and pervasive tension in the business
Deteriorated family relationships
The business fails due to any or all of the above
"The 'fix' is employing communication and accountability as part of succession planning," Federer says. "Above all else, siblings must have clear expectations of their roles, responsibilities and future opportunities, and protocols must be in place for decision-making and conflict resolution. When everyone is on the same page, the future of the family business can be very bright."
About FPMG
FPMG is a Florida performance management consultancy dedicated to guiding successful people to be their best. Based in Tampa, we help you uncover the non-financial issues that impact the bottom line. FPMG offers consulting for family business problems, financial advisors legacy advising, leadership development, and more.