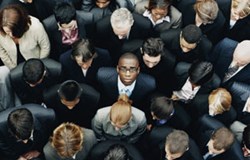 Once people are honest with themselves and see what might be holding them back from being an agile leader, they can cartwheel toward success and become the king of their jungle.
Tampa, FL (PRWEB) November 09, 2013
The UK's Agile Awards, presented by talent procurer Yoh on November 7, recognized individuals who excel at applying the Agile software development philosophy. Denise Federer, Ph.D., founder of FPMG, a performance management firm, is also a fan of agility, but she focuses on its value to leaders.
"Agility isn't just for gymnasts and cheetahs; while business leaders don't have to worry about doing handstands on a balance beam or stalking the jungle for prey, they must be agile in their thinking to successfully lead organizations in a new direction—and know when it's time to walk away," Federer says.
FPMG believes agile leaders need both vision and courage. The former is reflected by seeing what's coming down the pike to make decisions about the future, while the latter manifests itself in being brave enough to disrupt the status quo to implement what's been decided.
Federer notes that some leaders are strong visionaries who lack the intestinal fortitude required to affect real change. Others are full of bravado, but have no strong vision for the future. The star performers, as might be expected, are those with both qualities, so they're agile and resilient.
"Think about the leaders of Kodak, once a photographic superpower, now resigned to being little more than a footnote," Federer says. "Their business model relied on customers buying cameras and film. Even as they saw digital technology encroaching on their territory (and they couldn't have missed it), they steadfastly stuck to their core products, refusing to change with the times."
Federer points out that the Kodak team lacked agility. Perhaps they allowed their own fears and anxieties to keep them on a course that was headed into an abyss. Or maybe their lack of action suggests they were unwilling to live with unknown consequences—something every agile leader must do—and unable to acknowledge that nothing lasts forever.
"Contrast what Kodak did—or didn't do—with what a man I recently coached did: he decided to take himself out of a leadership role at a company he'd run for some time," Federer says. "He's the very definition of an agile leader; looking toward the future, he didn't see himself as the right person to move the company forward—and he had the courage to walk away. I was frankly awestruck by him. How many times have we seen people hang on to roles when it's clear their time is done?"
Federer acknowledges that no one can become an agile leader overnight, but the process begins with challenging current thinking and assessing readiness for change. She suggests people answer seven questions to get started:

What factors affect my industry?
How do these factors influence my current performance and behavior?
What behaviors/thoughts have made me successful so far?
How is my behavior affected by my motivations, values and goals?
What lessons can I learn from the experiences of other successful people in similar situations?
What new behaviors or proficiencies might I consider as keys to my future success?
What specific shifts in thinking and behavioral changes am I willing to make to achieve my future goals?
"Once people are honest with themselves and see what might be holding them back from being an agile leader, they can cartwheel toward success and become the king of their jungle," Federer says.
FPMG is a Florida performance management consultancy dedicated to guiding successful people to be their best. Based in Tampa, we help you uncover the non-financial issues that impact the bottom line. FPMG offers consulting for family business problems, financial advisors legacy advising, leadership development, and more.