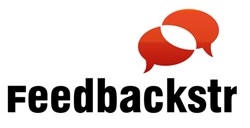 Feedbackstr is a robust survey tool that any company could implement for fantastic customer feedback.
Dresden, Germany & Barcelona, Spain (PRWEB) January 20, 2014
GetApp, an independent marketplace that helps businesses discover, compare, review and purchase business applications, today announced it has awarded a high rating to Feedbackstr, an online tool that empowers companies to simply and directly ask their customers through easy and quick surveys from a phone, tablet, or computer about their products and services to measure and manage customer satisfaction and customer experience.
"Feedbackstr is a robust survey tool that any company could implement for fantastic customer feedback," said Jonathan Garro, GetApp reviewer.
Feedbbackstr achieved the following ratings:
Overall: 9/10
Ease of Use: 4/5
Features: 5/5
Value: 5/5
Feedbbackstr is an efficient way for businesses to be aware of their customer's opinions about the company, which is an essential part of any successful business strategy. Feedbackstr approaches customer surveys from the perspective that these should be as easy to build as they are to take, and the product packs in the necessary analysis tools to help businesses get the most out of the survey results.
According to GetApp, Feedbbackstr's main benefits stand in the possibility to let a complete team to collaborate when building and analyzing customer surveys. Feedbackstr understands that multiple employees from an organization are going to be interested both in creating the surveys and also in tracking the responses. Analysis of survey results can be done from a collaborative dashboard that contains a wealth of information, presented as statistics and in graph form.
Feedbbackstr CEO Niels Delater said, "We are honored to receive a high rating from GetApp. In today's economy, understanding your customer is immensely important. Identifying business strategies that work and addressing customer service hiccups requires getting direct and honest feedback that should not be difficult to get from your customers."
To read the full review on GetApp visit:
http://www.getapp.com/blog/feedbackstr-review/.
To learn more about Feedbbackstr, please visit:
http://www.getapp.com/feedbackstr-application.
About Feedbbackstr
Our goal at Feedbackstr is to let you manage feedback in real time. Our feedback management technology allows you to quickly and directly gather feedback through easy-to-access surveys and clean-cut questionnaires, all of which can be completed via smartphone, tablet or PC. Survey your customers, employees, friends or audience and get the response and insights you need. The feedback you receive will be evaluated and neatly displayed on corresponding scorecards and dashboards. Share reports and insights with your team or publish it and enter into direct dialogue with your audience. Visit us at http://www.feedbackstr.com and see, why customers like Audi, Samsung, TNT or Bosch are using Feedbackstr.
Feedbackstr is a product of Spectos GmbH
About GetApp
GetApp is the largest independent online marketplace that helps small to mid-sized businesses and startups discover, evaluate and manage the perfect business apps for their needs. Its mission is to support millions of users in their "best app" research with comprehensive directories, interactive search tools, side-by-side comparison tables, user reviews and app evaluation resources.
In addition, GetApp serves as a global online marketing channel for thousands of business application developers. GetApp operates primarily in North America and the U.K. It is privately owned and backed by Nauta Capital.