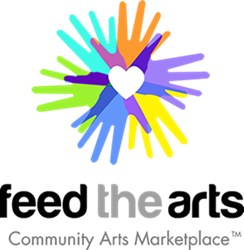 New York, NY (PRWEB) October 02, 2013
FeedTheArts.com has forever changed the way art is funded by introducing its Time Funding™ model. Only a few short months ago, the idea of Time Funding™ was just that - an idea. A really great idea! The patent pending process is simple and it takes the burden of funding away from the fans and places it on the advertisers. FeedTheArts.com is dedicated to helping Artists of all kinds on their path to success without asking for any money from their fan base. Just a few minutes of time each day to search, watch videos, play games, and socialize. Time Funding ™ is the tool that can help an Artist catapult their career to the next level. Not only can FeedTheArts.com help with funding, but it's a great way to promote an Artist and their career. FeedTheArts.com is a destination for fans to contribute to an Artist's goal, purchase merch or simply check out new and undiscovered talent.
To say that the first funding project was a success would be an understatement. Singer/Songwriter Sarah McLennan chose a recording package from the world renowned Skyelab Studios. In 23 hours, her dedicated fans and the supportive members of FeedTheArts.com funded her goal project. Feed The Arts strives to support the hidden gems in the art world.
FeedTheArts.com is ready to take the funding burden off of the fans. They will be holding a three month online launch party. During the month of October, FeedTheArts.com invites the world to join their efforts to fund 30 Artists. Every day this month a new Artist will be introduced and featured on the site. The goal is to fund every project by the end of the month, helping 30 more Artists take the next step on their creative journey. FeedTheArts.com is continuing their Time Funding™ efforts by setting a goal to double the projects in November.
So much excitement and support has enabled Feed The Arts to change creative lives. Their success has enabled the company to give back to those who gave - in a big way! During the months of October and November, FeedTheArts.com will be accepting contest submissions from Fans and also Artists of Music, Visual Artist, Film and Literature. Feed The Arts will be picking one winner from each category for a grand prize. Voting begins December 1. On December 20, the winners will be announced. Prizes for each category are massive. More information on these giveaways will be released soon so stay tuned.
ABOUT FEEDTHEARTS.COM:
Feed The Arts provides a place for fans to go to support The Arts. The site is easy and free to join. Once a member, earning the virtual currency called Arts Cash is simple and fun. Watching videos, taking surveys, surfing the net are only a few of the ways to earn. The Arts Cash can then be turned around and donated to a project or be used to purchase merchandise. FeedTheArts.com is an unprecedented platform that gives back to everyone involved. Fans help Artists, companies build their businesses and Artists take that extra step on their journey.
For more information, please contact:
Lauren Daddis
Feed The Arts
Lauren(at)feedthearts(dot)com