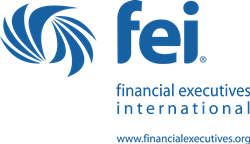 MORRISTOWN, N.J. (PRWEB) October 12, 2022
Financial Executives International (FEI), the association of choice for finance leaders, announced today that it will hold its annual Corporate Financial Reporting Insights (CFRI) Conference on November 7 and 8. The hybrid event will be hosted in person at the Sheraton New York Times Square, and available virtually. This year's theme—Leading Beyond the Numbers—aims to aid financial professionals in gaining the knowledge necessary to help their organizations reframe their societal roles. Attendees can earn up to 18 CPE credits and are encouraged to join the conversation on Twitter by using #FEIcfri2022. Visit here to register.
Linda Zukauckas, Chief Financial Officer of Nielsen, joins CFRI as this year's keynote speaker and will discuss how her leadership style encompasses innovation, wellness, sustainability, diversity, and more. Attendees will also learn about U.S. SEC agenda updates during a fireside chat with U.S. SEC Acting Chief Accountant, Office of the Chief Accountant, Paul Munter, and Jeff Karbowski, CAO of PayPal Holdings.
Sessions from the U.S. Securities and Exchange Commission (U.S. SEC), Financial Accounting Standards Board (FASB), Public Company Accounting Oversight Board (PCAOB)
Members of the key financial and regulatory oversight organizations will join panels to discuss the latest developments in rulemaking and standard setting.

U.S. SEC: The Deputy Chief Accountants from the Office of the Chief Accountant, Diana Stoltzfus and Kevin Vaughn, will share their thoughts and perspectives on recent U.S. SEC developments, including issues facing the preparer community and the accounting profession. Chief Accountant Lindsay McCord and Deputy Chief Accountants from The Division of Corporation Finance, Sarah Lowe and Melissa Rocha, will discuss major trends, rulemaking efforts, and current and future priorities to facilitate the disclosure of material information. They will provide relevant recommendations on new or existing rules, interpretive guidance, and monitoring the filings of public companies.
FASB: FASB Chair Rich Jones and Technical Director Hillary Salo will discuss current priorities of the FASB technical agenda, specifically focused on how key standards are evolving and what FASB is doing to adapt to changes in the current environment. Investor perspectives will be provided by David Gonzales, VP Senior Accounting Analyst at Moody's, and the panel will be moderated by Holly Grennan, Senior Director, Global Technical Accounting & Policy at Nike.
PCAOB: Attendees can join PCAOB Board members Duane DesParte and Christina Ho for a panel discussion moderated by Brian Croteau, Partner at PwC, to discuss the Board's priorities as well as current developments in the areas of standard setting, inspections, and enforcement.
Agenda and Registration Details
The complete 2022 CFRI agenda can be found here, and includes other sessions covering additional topics such as:
Carbon reporting
Demystifying digital assets
Understanding potential updates to segment and income statement disaggregation guidance
Best practices and experiences in cybersecurity incident reporting
Economic update and practical implications and considerations for finance leaders and corporations
Preparing for the SEC Climate Rule
"We are very excited to produce this year's CFRI Conference as the first truly hybrid event for FEI," said Steve Rivera, Vice President, Global Technical Accounting Advisory Services & Policy at Johnson & Johnson and Chair of the CFRI Conference Planning Committee. "The agenda was curated by the Planning Committee after carefully considering the evolving finance and accounting landscape and the importance of representation and being an authentic leader. Bringing these vital, robust topics and respected expert presenters to a wider audience of finance leaders allows corporations to professionally develop and advance their finance functions, as attendees gain insight into the unique challenges finance and accounting leaders are facing today."
"We understand that organizations are continuing to adjust to the new normal workspace and business frontiers," said Andrej Suskavcevic, CAE, President, and CEO of FEI and FERF. "The financial professional plays a crucial role in evolving the corporate infrastructures and processes—from modernizing financial-specific functions to developing and driving ESG initiatives. This year's agenda is designed to help financial leaders learn from each other how best to support these new objectives."
FEI's CFRI Conference is made possible through the support of the Financial Education & Research Foundation (FERF) and event sponsors including Diamond Sponsor Microsoft; Platinum Sponsors Crowe, Deloitte, EY, KPMG, Persefoni, PwC, Workiva; and Silver Sponsor, Kroll.
90th Anniversary
FEI was initially formed in 1931 as the Controllers Institute of America. Today, the organization continues to educate, shape, and influence the finance function in corporate America. A special reception will be held on November 7 to celebrate FEI's 90th Anniversary. FEI's 90th Anniversary Reception is made possible by supporter Robert Half Protiviti.
About FEI
Financial Executives International (FEI) is the leading association and advocate for the views of corporate financial management. Its members hold policy-making positions as chief financial officers, chief accounting officers, controllers, treasurers, and tax executives at companies in every major industry. FEI enhances Member professional development through peer networking, career management services, conferences, research, and publications. Members participate in the activities of local Chapters in the U.S. FEI is located in Morristown, NJ. Visit http://www.financialexecutives.org for more information.