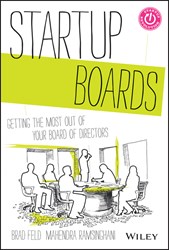 While you might be hesitant to form a board, establishing an objective outside group is essential for startups, especially to keep you on track, call you out when you flail, and in some cases, save you from yourself.
Hoboken, NJ (PRWEB) January 14, 2014
How does an entrepreneur manage this beast called the board, which has many heads, and even more opinions? Indeed, dealing with this aspect of a startup can be tricky for anyone. That's why Brad Feld, a boulder-Colorado- based entrepreneur turned venture capitalist, and seed investor Mahendra Ramsinghani have written the sixth book of the StartUp Revolution series "Startup Boards: Getting the Most Out of Your Board of Directors" (WILEY; January 2014; Hardcover & e-book; $29.95; ISBN: 978-1-118-44366-8). In it, they skillfully clarify board dynamics and the inner workings of a boardroom for today's entrepreneur.
"Let's face it, as founders and entrepreneurs, you have a lot on your plate—getting to your minimum viable product, developing customer interaction, hiring team members, and managing the accounts/books. Sooner or later, you have a board of directors, three to five (or even seven) Type A personalities who seek your attention and at times will tell you what to do," says Feld. "While you might be hesitant to form a board, establishing an objective outside group is essential for startups, especially to keep you on track, call you out when you flail, and in some cases, save you from yourself."
In "Startup Boards," the authors share their experiences in this area by exploring the importance of having the right board members on a team and how to manage them effectively. Along the way, they share valuable insights on various aspects of the board, including how they can support an entrepreneur, help them understand a startup's milestones and get to them faster, and hold the team accountable. The book also:

Details the process of choosing board members, including interviewing many people, checking references, and remembering that there should be no fear in rejecting a wrong fit
Explores the importance of running great meetings, mixing social time with business time
Recommends being a board member yourself at some other organization so you see the other side of the equation
"When writing this book we decided that in addition to describing the startup board approach that resulted from Brad's two- year experiment with various boards, it was important to lay groundwork and clearly explain how startup boards worked, how they could be effective, and what the challenges were," says Ramsinghani. "Brad's new board approach is built on the traditional board of directors, so rather than throw it out, we use a highly functioning one as the basis for a new, evolved, and much more effective approach to a board of directors."
"Startup Boards" explores how to construct the board, lead and manage it, and deal with conflicts when they arise. It will also help entrepreneurs understand how to get the most of their board and how to address things when they aren't working. While a great board can be a guidepost and a positive catalyst, a bad board can cause angst and frustration, destroy value, and occasionally kill a company.
"While first-time CEOs and founders often have an elevated view of the boardroom, great startup boards aren't fancy, complex, or pretentious. Instead, a startup board is usually a small group of people trying to help build your company," adds Feld. "Our goal is to demystify how a board of directors works, discuss historical best and worst practices, and give readers a clear set of tools for creating and managing an awesome board."
About the authors
Brad Feld has been and early-stage investor and entrepreneur for over twenty years. Prior to cofounding Foundry Group – a Boulder, Colorado-based early-stage venture capital fund that invests in information technology companies all over the United States – he cofounded Mobius Venture Capital and, prior to that, founded Intensity Ventures. Feld is also a cofounder of Techstars and has been active with several nonprofit organizations. He is a nationally recognized speaker on the topics of venture capital investing and entrepreneurship.
Mahendra Ramsinghani has over 15 years of investment and entrepreneurial experience and has led investments in over fifty seed stage companies. He helped draft the underlying legislation for a fond-of-funds for the state of Michigan. For his contributions, Ramsinghani's immigration to the United Stated was approved under "national interest." He is the author of The Business of Venture Capital (Wiley). His articles and blogs have been published in Forbes, MIT Technology Review, Thomas Reuters, and the Huffington Post. His educational background includes a BE in electronics and MBA in finance and marketing from the University of Pune, India.
###