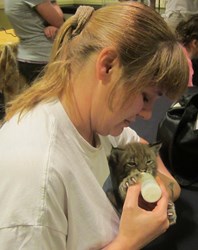 FCF is excited to team up with Big Cat Habitat in the ongoing effort to instruct folks on exotic feline husbandry and conservation education.
Washington, D.C. (PRWEB) October 31, 2013
The Feline Conservation Federation (FCF) will hold a Wildcat Weekend on Friday, January 10 through Sunday, January 12, 2014 at Big Cat Habitat and Gulf Coast Sanctuary, Sarasota, Florida. The three-day event teaches its highly acclaimed Wild/Exotic Feline Husbandry Course on Friday, has arranged for a special guided tour of Big Cat Habitat on Saturday, and teaches the Wildlife Conservation Educator's Course on Sunday.
Classes start at 8:00 a.m. and run to 6:00 p.m., at Big Cat Habitat located at 7101 Palmer Blvd., Sarasota, FL 34240. Everyone interested in learning about exotic feline husbandry, or, how to build a wildlife education business that presents wildlife shows is invited to register for either or both of these classes.
A special, one hour animal training demonstration will be part of each day's instruction. Students gain a unique opportunity to see professional animal husbandry, and, to see how trainers shape desired behaviors and condition animals in preparation for appearances at shows.
Lunch is provided for both courses. Students receive a textbook, test and successful Certificate of Completion.
Students are encouraged to return to Big Cat Habitat at 12:30 on Saturday. Kay Rosaire, facility founder, will conduct a special guided tour for the Wildcat Weekend attendees. Students see real life examples of the facility's husbandry practices, habitat design and construction, enrichment provided, and examples of its contingency plans. At 2:00 pm, students will watch a demonstration of animal training that reinforces instruction taught in Sunday's Wildlife Conservation Educator's Course.
FCF executive director Lynn Culver says, "FCF is excited to team up with Big Cat Habitat in the ongoing effort to instruct folks on exotic feline husbandry and conservation education." Courses are $160 each. Members of the Feline Conservation Federation receive a $35 discount on each course registration fee. The special Saturday tour is $15. Join the FCF using the website's online form and pay with PayPal. Students that register online and pay for both classes will have their fee waived for the tour of the Big Cat Habitat on Saturday.
Mindy Stinner, co-founded of Conservators' Center is the husbandry course instructor. Stinner says, "The Basic Exotic/Wild Feline Husbandry Course is designed to provide new information and ideas that will aid caregivers at any level of experience, from someone who has just discovered their interest in wild cats to zookeepers with 20 years of experience." Instruction covers introduction to all the species of wild cats, nutrition, health care, habitat construction and enrichment, laws and regulatory agencies, contingency planning, behavior conditioning and much more.
The Wildlife Conservation Educator's Course is created and taught by experienced wildlife educator, Debi Willoughby, founder of Jungle Encounters. Willoughby says, "The course is designed to take students step by step from starting a business, booking shows, promoting, advertising and expanding a wildlife education business, and most importantly, developing effective conservation messages that engage, entertain, and capture viewers' attention." The Wildlife Conservation Educator's Course covers licensing required and how to choose and train animals for outreach ambassador rolls.
The FCF recommends lodging just two miles away at AmericInn Sarasota, 5931 Fruitville Road. Travelocity has a monster sale right now. Pay only $76 per night, or save even more by combining your flight with hotel reservations at AmericInn Sarasota. Hotel reservations can also be made by calling 800-634-3444, or 941-342-8778 locally.
The Feline Conservation Federation] is a self-regulating group of exotic feline owners and handlers with an established group of professional members and inspected and accredited facilities. FCF is both an important genetic resource as well as a key resource of ambassador animals used in conservation education.