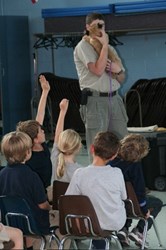 Hundreds of thousands of people are informed about conservation efforts and are introduced to spectacular animal ambassadors every day here in the US.
(PRWEB) December 21, 2013
On Sunday, January 12, 2014, Big Cat Habitat and Gulf Coast Sanctuary in Sarasota, Florida, will host the Wildlife Conservation Educators Course. This Feline Conservation Federation (FCF) "how to" continuing education class is taught by Debi Willoughby, a Massachusetts licensed wildlife educator and founder of Jungle Encounters.
Instructor Willoughby believes we need to act now to help secure the future for wild animals. This inspired her to work with the FCF to develop a one day instructional class to help wildlife educators develop effective conservation messages that enlighten the public and bring understanding of complex environmental issues.
Willoughby explains that being a wildlife educator is an effective way to spread awareness about wildlife and the survival issues they face on a daily basis. "Hundreds of thousands of people are informed about conservation efforts and are introduced to spectacular animal ambassadors every day here in the US", Willoughby states, "and this public awareness improves the ability of conservation efforts to raise the much needed funds that are crucial to helping save these animals in the wild."
Beginning at 8:00 am and running to 6:00 pm, students learn to develop safe, informative, entertaining and successful wildlife education programs. Willoughby explains how to choose and train animal ambassadors, and how to manage different types of audiences. Existing educators learn new ways to stand out and be a valuable asset to their employer. Folks just starting learn how to create their own wildlife education program. Willoughby teaches how to meet federal licensing requirements and form a business and also, how to expand and keep the business successful.
Big Cat Habitat is located at 7101 Palmer Blvd in Sarasota, FL. The closest airports are Sarasota (SRQ), and Tampa (TPA). Various lodging is available, with the AmericInn being the closest to the Sanctuary. Fee for this course is $160 ($125 for FCF members), and registrations can be made and paid for online at the Feline Conservation Federation website.
A special feature will be a one hour live animal show at 2:00 pm put on by Big Cat Habitat. Course attendees will watch as a variety of felines are given a daily training class which uses positive reinforcement to shape desired natural behaviors. This is a firsthand look at how professionals handle and work with big cats!
Professional wildlife exhibitors, such as Willoughby and Big Cat Habitat, are licensed by the United States Department of Agriculture (USDA) and must meet stringent regulations on animal welfare and public safety. Willoughby designed the curriculum to prepare upcoming educators to meet this federal licensing, and she notes it is also a valuable continuing educational opportunity for the folks already working at zoos, nature centers, and wildlife sanctuaries.
Big Cat Habitat and Gulf Coast Sanctuary, host to this event, is a rescue and educational wildlife facility. Big Cat Habitat is also hosting another FCF course, its highly acclaimed Wild/Exotic Feline Husbandry Course, on Friday, January 10. On Saturday, students are invited to BCH for a special guided tour of the facility where emphasis on the design, and daily management of the facility will enable students to see how a successful facility operates.
Another training demonstration will also be part of this tour. Courses are $160 each. Members of the Feline Conservation Federation receive a $35 discount on each course registration fee. The special Saturday tour is $15. Join the FCF using the website's online form and pay with PayPal. Students that register online and pay for both classes will have their fee waived for the tour of the Big Cat Habitat on Saturday.
This "wildcat weekend" concludes Sunday after the Wildlife Conservation Educators Course, giving folks the tools they need to prepare for exotic feline ownership and the knowledge to be successful, professional wildlife educators.
The Feline Conservation Federation is a self-regulating group of exotic feline owners and handlers with an established group of professional members and inspected and accredited facilities. FCF is both an important genetic resource as well as a key resource of ambassador animals used in conservation education.