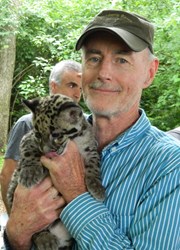 Hand rearing is one of the tools in our husbandry toolbox, and decisions on when to use this method need to be left to the animal managers, not the animal rights community.
Washington, DC (PRWEB) October 31, 2013
The Feline Conservation Federation (FCF) has submitted comments to the USDA that oppose regulatory changes outlined in a petition written by animal rights organizations seeking to abolish hand rearing and public contact with big cat offspring. Impacted species include lion, tiger, cougar, leopards, jaguar and cheetah. The USDA is seeking comments based on scientific studies, species experience, and animal industry standards.
The FCF organization represents the majority of species experience for many of the cats listed in the proposed changes, and has helped establish industry standards since its founding more than 50 years ago. FCF members all have an animal welfare focus, including private zoos, educators, exhibitors, sanctuaries, individual owners and supporters of feline husbandry and feline conservation. FCF conducts classes across the country on proper hand rearing and husbandry protocol, and also teaches wildlife conservation education with emphasis on safe public interaction.
FCF executive director Lynn Culver says, "Hand rearing is one of the tools in our husbandry toolbox, and decisions on when to use this method need to be left to the animal managers, not to animal rights people who depend on inciting fear to encourage the regulatory extinction of these species out of the wild."
The proposed regulations would effectively eliminate appearance of felines on television and movies, forbid the hands-on experience of animal friendships, and create a 15-foot barrier of distance between humans and nature's felines.
FCF board member and conservation adviser, Dr. Jim Sanderson, travels the globe to survey by camera trapping the status of rare cats. Sanderson says, "There is a connection between touch, stimulation of the frontal cortex of the brain, feeling good, and feeling a strong connection to whatever it is you are touching - like a wild cat. Prohibiting human interaction with the young of big cats removes this proven way to stimulate the public to care about wildlife preservation."
FCF facilities manage rare felines not seen in the big municipal zoos, such as the Bengal tiger and the Asian and Indian leopards. Much of their success is owed to hands-on husbandry and public outreach. These preserves rely upon outreach to the public to generate operating funds and to raise millions of dollars in revenue currently financing conservation and preservation efforts.
Over 13,000 comments have been submitted to the USDA and nearly 75% of the comments posted online are identical and signed as anonymous. Culver is concerned that petition supporters may have created a computer program to randomly assign zip codes to thousands of identical emails.
A Petition to Develop Regulations to Prohibit Public Contact with Potentially Dangerous Animals can be read on Regulations.gov website and is open for public until November 18, 2013.
The Feline Conservation Federation (FCF) is a self-regulating group of exotic feline owners and handlers with an established group of professional members and inspected and accredited facilities. FCF is both an important genetic resource as well as a key resource of ambassador animals used in conservation education.