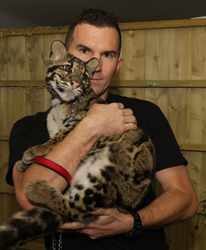 This year's international guest speaker is Balazs Buzas from Fujairah, United Arab Emirates.
Washington, D.C. (PRWEB) May 26, 2014
The Feline Conservation Federation (FCF) annual convention will be held in beautiful Scottsdale, Arizona. The gathering begins Thursday, June 19 and runs through Saturday, June 21 at the Scottsdale Cottonwoods Resort and Suites. The FCF is a 501(c)(3) non-profit organization that conserves wild felines through preservation, education and research. Members are wild feline owners and handlers, educators, conservationists, researchers, and supporters of feline conservation.
This year's international guest speaker is Balazs Buzas from Fujairah, United Arab Emirates. His presentation will draw attention to the nature of the Arabian Peninsula and the endangered felid species living in the desert and mountains.
Of particular interest to the FCF will be news on the highly endangered Arabian leopard. According to researchers from the National Wildlife Research Center (NWRC) and King Saud University, Arabian leopards currently number less than one hundred. The Arabian Peninsula's rapidly developing economy and tourism industry has led to the building of roads that expose wildlife to traffic and poaching, and the further fragmenting of critical wildlife habitats.
Wednesday June 18, preceding the start of convention will be two educational courses presented at the Cottonwoods Resort. FCF instructors will teach the Wild/Exotic Feline Husbandry Course and the Wildlife Conservation Educators Course from 8am-6pm. A Wild Cat Show complete with exotic kittens follows at 7pm. The show is free and the public is invited.
The registration fee for convention is $200, and either course is $145. Both reservations can be made online at the FCF website, and payment can be made by PayPal, check or credit card. Hotel reservations can be made by calling 480-991-1414. FCF Convention suite rate is $82.
Thursday June 19 the convention officially kicks off with vendors and exotic kittens on display, followed by a social mixer and southwest buffet and the society's membership meeting.
Friday June 20 the group leaves for Out of Africa Wildlife Park, renowned for its Africa Safari rides through its Serengeti-like plains and its entertaining animal shows. The afternoon concludes with a meeting with Dean Harrison, founder of the Park at the Tiger Splash arena. The return bus ride to Scottsdale stops midway at Rock Springs Café for barbeque and choice of world famous pies.
Saturday June 21 features international guest speaker Balasz Buzas, as well as Dr. Jim Sanderson, founder of Small Wild Cat Conservation Foundation, Lisa Haynes, founder of University of Arizona's Wild Cat Research and Conservation Center, Hilda Trezs, Behavioral Enrichment specialist at the Phoenix Zoo, Jamie Maurer and Ashley Bordelon, cat trainers at Wildlife World Zoo and Aquarium, and April Howard, big game biologist for the Arizona Game and Fish Commission.
Saturday night concludes with a banquet dinner, entertainment, and fund raiser auction.
Sunday June 22 an optional trip to the Wildlife World Zoo and Aquarium is offered. Transportation is provided from the Cottonwoods Resort at 9:00 am and returns to the hotel at 2:00 pm. Transportation is $30 a person round trip, zoo entry is complimentary, as are the zoo's rides.
The Feline Conservation Federation is a self-regulated society with an established group of professional members and accredited facilities. FCF member facilities maintain important genetic reserves and are a key resource of ambassador felines used in conservation education.