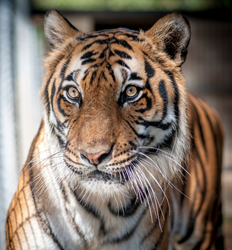 The key to long-term survival of a species is large effective population size and high genetic diversity. Passing this bill would significantly reduce both.
Washington, DC (PRWEB) July 15, 2014
The Feline Conservation Federation (FCF) warns that SB 1381, The Big Cats and Public Safety Act, introduced July 29, 2013 by Senator Richard Blumenthal of Connecticut has unintended consequences that will harm conservation breeding and deny the public viewing opportunities of big cats. Senate Bill 1381 is scheduled for a public hearing on Wednesday, July 16 at 3:00 pm before the Environment and Public Works Subcommittee on Water and Wildlife. The hearing will be in room 406 of the Dirksen Senate Office Building in Washington, D.C.
SB 1381 is a companion bill preceded by House Resolution 1998. Culver is disturbed by what she believes are numerous non-factual statements contained in the findings used to support the house bill. Culver says, "The Big Cats and Public Safety Act is not founded on science, but instead, on speculation, and is strikingly similar to the talking points of animal rights extremist groups." Culver takes exception to the "finding" that breeding and sales of big cats causes "substantial detriment to public health and welfare". Her analysis of incident reports put public risk extremely low. "The only visitor killed by an escaped tiger occurred at the AZA accredited San Francisco Zoo, exempted in the proposed bill."
Another critic of this legislation is noted feline researcher, Dr. Brian W. Davis of Bethesda, who has worked with the genomics of exotic cats and other species for the purpose of conservation and discovery of disease mechanisms. Davis notes, "The long term survival and genetic health of vulnerable species is critical if we are to gain insights from these species about the biology underlying human disease and human disease pathology." His colleague, Dr. Jan E. Janecka of Duquesne University, who has well recognized work in the field of conservation genetics for multiple exotic feline species, as well as disease genomics, states, "The key to long-term survival of a species is large effective population size and high genetic diversity. Passing this bill would significantly reduce both. It would have an unavoidable negative impact on the future of the captive tiger population as well as other endangered feline species maintained in captivity."
The Big Cats and Public Safety Act would prohibit hundreds of state licensed and federally inspected zoological parks, nature centers and private facilities from owning or breeding lion, tiger, leopard, jaguar, cheetah, puma or snow leopard, some of the most threatened feline species on earth. Culver says, "Licensed exhibitors fill an important niche in their communities and need to display charismatic big cat species like lion and tiger for important conservation education."
According to Culver's analysis, SB 1381 would also prohibit big cat trainers from obtaining these big cats for shows, movies, and educational presentations.
Federal laws already in place to address big cat issues include the Animal Welfare Act, the Endangered Species Act, the Lacey Act, the Captive Wildlife Safety Act and the Rhino and Tiger Product Labeling Act.
"As for the risk to the public," Culver says, "Most accidents only happen to the people who work around the big cats." Culver recently attended a Big Cat Symposium held in Kansas City, Missouri. The two day event was put on by the United States Department of Agriculture Animal Plant and Health Inspection Service (USDA-APHIS) to educate stakeholders on best management practices. Culver commends the agency for this proactive approach to safety and welfare, and believes it helps the felines, the animal industry and the public. "We don't need more prohibitions, we need Congress to properly fund the USDA," says Culver.
FCF is an internationally recognized non-profit organization founded to improve captive feline husbandry and support wild feline conservation. Professional members include USDA licensed breeders, educators and handlers who work at zoos, sanctuaries, nature centers and private facilities.