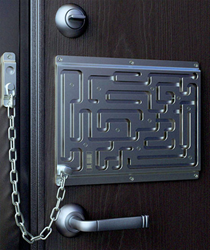 There are extra safety precautions single women home buyers should take into consideration when shopping for a new home.
Baltimore, Maryland (PRWEB) November 14, 2013
Since 1994, it's estimated that women are responsible for more than one-third of all real estate ownership in the United States, and as the real estate market continues on the road to recovery, more and more women are beginning the process of searching for a home. Single women often have unique safety concerns when it comes to purchasing a home, according to the security professionals at SecuritySystemReviews.com, a site that provides reviews of companies, including Lifeshield security reviews. Their team created a list of tips to guide women during the home buying process.
1. Women should try to buy a home with an attached garage, whenever possible. When women arrive home from work, they will likely feel more secure parking their car in an attached garage, versus having to walk to their door in the darkness. It's also a good idea to buy a home that offers electronically-operated garage doors.
2. A gated community can be a good option for female buyers, particularly if there is a guard at the gate.
3. Women should try to buy a home in tight-knit community where the neighbors are familiar with each other. This will mean there's people to watch the woman's home while she's away at work or on vacation, and there's a higher likelihood that any sign of trouble will be reported by neighbors. A community with an established neighborhood watch group is also a great option for single female buyers.
4. Security systems make a valuable addition to any home, particularly if a woman is planning to buy the home. Many top home security systems offer constant monitoring, and many have added features like glass break sensors, and some even have panic buttons.
5. Many criminals don't break into windows, like the common misconception would have buyers believe. Instead, they often enter through doors. Female buyers should carefully inspect doors to ensure they have a solid core, and strong, durable door jambs and locks. All exterior doors should have deadbolts.
6. Single female buyers may want to opt for a first-floor bedroom. Buyers often have the idea that second-floor bedrooms are safer, but when a bedroom is located on the second floor, the home's resident may not hear if someone is attempting to break in. That advanced notice can be vital to contacting the authorities or deterring the burglar.
7. Buyers, and in particular female buyers, shouldn't just look at the individual home they're thinking about buying, but also the surrounding neighborhood. It's possible to research crime statistics for a specific area using local police department records and statistics.
About SecuritySystemReviews.com
SecuritySystemReviews.com is the leading provider of reviews and rankings of the nation's top security companies on a state by state basis. Whether a consumer is searching for Idaho security systems to South Carolina security systems, or anything in between, the site has information that can help consumers make valuable comparisons and save money.