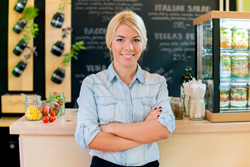 "Women entrepreneurs represent a huge portion of American industry, and unfortunately, they are not getting the funding they deserve to succeed," says the CCO of Merchant Cash USA Darrin Landau.
Las Vegas, NV (PRWEB) October 22, 2015
This October, we celebrate Women's Small Business Month. October is not only a month about awareness and prevention for breast cancer, it is also a time to celebrate the accomplishments of women in small business and to become aware of the challenges yet to come.
According to American Express OPEN's 2014 State of Women Owned Business Report, it is estimated that over 9 million women own businesses in the United States. This brings in over $1.4 trillion in revenue and employees nearly 8 million U.S. individuals.
Funding to start, expand, or help a business remains difficult to this day. The Senate Committee on Small Business and Entrepreneurship reports that women only account for 16 percent of traditional small business loans (i.e. big bank loans) and 17 percent of SBA loans. Although women make up for 1.5 times the average of other individuals starting up new businesses, they still fall short of receiving actual funding.
Due to the lack of loans given out to female entrepreneurs, many women have turned to alternative financing to get their business the money it needs. Alternative financing such as a cash advance can sometimes have higher interest rates than a traditional loan, but funds can be dispersed almost immediately when someone needs capital fast. This is ideal for a female entrepreneur who needs capital for new equipment, hiring staff, or seasonal issues.
Alternative financing organization Merchant Cash USA was curious in which cities across the U.S. female entrepreneurs needed the most money. The organization and marketing organization Cobia Systems surveyed 2,586 female small business owners from various areas around the country to see which business owners have used alternative financing in the past, or were inclined to do so in the future.
Top cities with female CEOs who were most inclined to use alternative financing are listed below. Percentages indicate how many individuals said "yes" to a cash advance as a means of financing their business, or if they have used one in the past three years.
Top Industries for Female Owners Inclined to Alternative Financing
1. Baltimore, MD– 87 percent
2. Oakland, CA – 80 percent
3. Virginia Beach, VA – 77 percent
4. Dallas/Fort Worth, TX – 75 percent
5. Nashville, TN – 63 percent
6. Philadelphia, PA – 60 percent
7. Louisville, KY – 58 percent
8. Detroit, MI – 53 percent
9. Milwaukee, WI – 51 percent
10. Denver, CO – 49 percent
About Merchant Cash USA
Merchant Cash USA was founded in 2015 to help businesses grow by obtaining the cash flow they need. The organization's mission is to offer small business owners cash advances without the hassle of big bank requirements. Visit merchcash.com to find out more of follow us on social media. Facebook and Google Plus: Merchant Cash USA and Twitter: @merchcash.