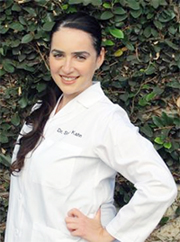 Los Angeles, CA (PRWEB) April 21, 2014
Los Angeles female dentist, Dr. Stella Kahn, today announces that she offers a wide selection of dental treatments for area patients. With preventive care from Dr. Kahn, including biannual check-ups and advice on proper dental hygiene, patients are less likely to suffer from tooth decay, gum disease and other oral health problems. Restorative treatments aimed at treating damage from oral health issues and physical trauma are also available at her office. Finally, several cosmetic treatments complete the selection of services Dr. Kahn offers.
About Dr. Stella Kahn, Female Dentist Los Angeles
Dr. Stella Kahn earned her Doctorate of Dental Surgery at University of Southern California. Today, Dr. Kahn remains committed to providing her patients with the highest quality of care by continuing to learn the latest dental techniques. With nearly 10 years in private practice, Dr. Kahn has earned a reputation as a versatile dentist who can perform family dentistry as well as numerous preventive, restorative and cosmetic treatments. Dr. Kahn, Los Angeles dental crowns expert, takes a comprehensive approach to dental care to ensure patients look and feel their best.
Patients of Los Angeles dental implants expert, Dr. Stella Kahn, are better protected from oral health problems and their progression thanks to a variety of preventive and restorative treatments. Children and their parents receive general cleanings and exams at biannual check-ups. Restorative care, using laser dental technology, is also available and includes tooth-colored fillings and bonding for cavity repair as well as dental bridges and implants for missing teeth. For athletes and patients who grind their teeth, Dr. Kahn offers customized mouth guards that guard against damage to the teeth and other oral tissues.
Cosmetic dental treatments from Dr. Kahn eliminate or conceal a wide range of aesthetic imperfections. For patients with superficial tooth stains, professional teeth whitening can often return teeth to a brilliant shine more quickly than over-the-counter whitening products can. When teeth become discolored by internal decay, veneers from Dr. Kahn can be used to conceal the problem permanently. Porcelain veneers can also be used to hide cracks, chips, gaps, improper rotating and uneven spacing. Finally, dental crowns are available and offer restorative value in addition to their cosmetic qualities.