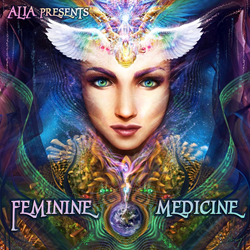 "I saw an opportunity to bring women together in partnership to create a project that can create ripples and shine the spotlight on the incredible talents of the women involved by featuring us together. - ALIA
San Francisco, CA (PRWEB) February 25, 2015
"Feminine Medicine" is an original music album and stage show project created to showcase more female artistry in the electronic dance music industry. Inspired by the idea of co-creating music with other women that brings a distinctively "feminine" sound to an otherwise male-driven industry, this project aims to create a beautiful and danceable album of music that features a stage show that creates a journey through the talents of several female choreographers and dancers.
As "Feminine Medicine" Creator, ALIA, states, "As a rising female electronic music artist and DJ, I have been blessed with many opportunities to play on big festival stages. When I looked around I noticed there were not a lot of women on the line-up with me and that in the broader industry, only 3 of the Top 100 DJs in the world are women. Around the planet there are still many domains and industries that have not included as many women - the DJ-driven, electronic music industry has been one such domain. This has become a buzz topic amongst my peers. It's time to bring more gender balance to the dance floor by featuring music that moves both men and women."
This project is focused on the creation of a 13-track album being released in two parts in the summer and the fall, which will feature over 16 female vocalists, instrumentalists, and electronic music producers. It will also showcase a custom stage show choreographed to the music of the album featuring at least 10 additional female dancers and choreographers to be mounted in the San Francisco Bay Area this fall. A version of the stage show will be presented on select festival stages this summer, including Lucidity Festival.
Most of the women involved in the project are actively performing and producing their own music. Many are featured performers at established conscious music venues and festivals including Envision Festival, Lucidity, Enchanted Forest, Forever Everland, Lightning in a Bottle, Wanderlust Festival, Beloved Festival, Burning Man and more.
The contributing Feminine Medicine Artists include DJ Dakini, Imagika Om, Kyrstyn Pixton, Amae Love, Amadora, Prrisma, JemInEye, Liquid Love Drops, Eleanor Tara, Ali Kane, Heather Christie, Aleksandra Dubov, Amma Lightweaver, Wahkeena Sitka, Prrisma, and Kaia Ra. More are being added as interest in the project grows. Choreographers include Eve Olution, Tenley Wallace, KC Baker, and Sonya Stewart and confirmed dancers include Sofia Thom.
Project Creator ALIA states, "I saw an opportunity to bring women together in partnership to create a project that can create ripples beyond what each of us might be able to create ourselves and shine the spotlight on the incredible talents of the women involved by featuring us together. I also saw an opportunity to create beautiful music that can move both hearts and bodies on the dance floor."
To help fund this vision, a Kickstarter campaign has been launched to raise $14,950 to support the production of the album, as well as marketing and promotion to help extend the project's reach. Any additional funds raised over the goal will support the production of the stage show and a more comprehensive promotional campaign. Completing on March 12th, the campaign offers many desirable rewards as incentives to contribute to the project, including: Private DJ sets with ALIA and DJ Dakini, signed giclée prints of the original "Feminine Medicine" artwork created by Visionary artist Olivia Curry, a personalized song Produced by ALIA, A VIP Backstage Access and Special Event Package to the "Feminine Medicine" Show, Vocal Lessons and Music Production Lessons from participating "Feminine Medicine" artists, Healing Sessions from "Feminine Medicine" contributors, Private 1-1 Mentoring Sessions with ALIA, as well as Limited Edition ALIA stickers and tank tops, and digital downloads of the album.
This project is being managed by Creator ALIA, an Electronic Music Producer, DJ, and the Founder of Femvolution. Keyframe-Entertainment and Ecstatic Dance Oakland Sunday are Sponsors of the project.
About ALIA:
ALIA is a San Francisco-based Producer, DJ, and Vocalist. ALIA has crossed international borders and traversed coasts to play transformational festivals including Envision Festival, Lucidity Festival, Enchanted Forest Festival, Beloved Gathering, Wanderlust Festival and Burning Man. She is also a regular fixture at the conscious events in the San Francisco Bay Area and is a resident of the worldwide phenomenon Ecstatic Dance. Her music is featured in the acclaimed video series showcasing the transformational festival movement, "The Bloom Series", and she was a musical contributor for TedX. A long-time champion for women's liberation and a former marketing executive that followed her passion into music, ALIA created her movement Femvolution to support other women to liberate their voice and passions providing private coaching and mentoring support, and she was named a "Woman Changing the Planet" by ORIGIN magazine.
About Keyframe-Entertainment:
Keyframe-Entertainment is a media network that creates global positive change by inspiring, informing, and entertaining through Transformational films, Visionary Art, and Electronic Music. Keyframe produces, finances, and distributes cutting edge projects in order to generate growth for its partners and strengthen community-building worldwide. Keyframe was launched in 2004 as a music label and artist management company and has since expanded its scope to include consciousness films and events. Keyframe-Entertainment is the Executive Producer of "Electronic Awakening," "The Bloom Series" Episode 3, and "ReInhabiting the Village."