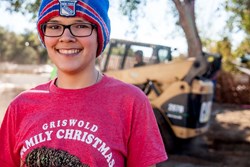 Before his diagnosis, Jonah's passion and thrill was skateboarding. When the Make-A-Wish volunteer Wish Granters asked him, "If you could have anything, go anywhere, meet anyone, do anything, what would it be?"
Santa Barbara, CA (PRWEB) December 23, 2013
Dare to dream! If you could have one wish, what would it be? Make-A-Wish is committed to making wishes come true for children with life-threatening medical conditions, believing that a wish experience can be a game changer in giving a child hope, courage and joy in the face of adversity.
Fence Factory teamed up with the local Make-A-Wish Tri-Counties to make a wish come true for 15-year-old Ojai resident Jonah. Jonah was diagnosed last year with glioblastoma multiforme, an aggressive form of brain cancer. After his diagnosis, he immediately underwent surgery which led to months of treatment and multiple therapies that included chemotherapy, antibody treatments, radiation, and physical therapy. Now, he has made so much progress with physical therapy that he is able to use chopsticks again.
Before his diagnosis, Jonah's passion and thrill was skateboarding. When the Make-A-Wish volunteer Wish Granters asked him, "If you could have anything, go anywhere, meet anyone, do anything, what would it be?" Jonah stated that he longed for a skate park near his home where his friends could come over to skate. This set the ball in motion for Jonah's Skate Spot.
You may wonder how the word spread so quickly to grant Jonah's wish. Make-A-Wish mentioned Jonah to Laurie Bennett at Fence Factory. After hearing his story, Fence Factory was ready to help make Jonah's dreams a reality. Fence Factory delivered the rebar, donated the production of the custom railing at the top of the bowl, and also brought several of their own construction industry contacts which then contributed to the creation of Jonah's Skate Spot.
Jonah's Skate Spot is scheduled to be open for fun in mid-January. Ride on, Jonah!