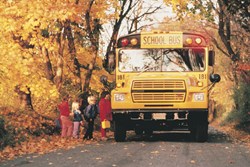 Fenton has always been a unique suburb to shop for a home because of its many options, including two separate counties and four different school districts.
Fenton MO (PRWEB) December 20, 2013
There are plenty of qualities that bring young families to Fenton looking for a home, but at the top of the list is the myriad of first-rate schooling opportunities situated within and around this small Eastern Missouri suburb of just over 4,000 residents. Fenton, earning its name as the "City of Parks", provides some of the most beautiful public recreation spaces in the greater St. Louis metro area, and is also home to four school districts split between Jefferson County and St. Louis County.
When one couples that with a tranquil setting and home prices that can fit many budgets, the complete package that new Fenton home owners have been buying into in 2013 becomes abundantly clear. The immense popularity of the area shows through recent data illustrating the Fenton home market as on the rise through mid-December.
Prudential Alliance, REALTORS® reports that Altos Research, a California-based real estate analytics company, saw the median list price for Fenton homes at $184,092 as of a December 13 report. This number represents the weighted 90-day average for Fenton homes, and while trending up the past few weeks, is still down from 2013 market highs of close to $200,000 that appeared in the first half of the year.
But, the real news here isn't minor home depreciation—it's quite the opposite. After all, the more immediate seven-day average for Fenton homes has been on the rise since its 2013-low of about $177,000 in early November, and is at a seven-month high of roughly $197,000.
In other words, the average Fenton home has accrued about $20,000 in value over the past month, and much of this has to do with Fenton inventory being on the decline—a trend that is occurring in many markets nationwide at this time of year.
Click here for the most current Fenton home sale listings.
So what do these upward Fenton home values mean for those looking to move to the suburb to take advantage of its family-friendly allure and, most importantly, its top-tier educational opportunities? For starters, the National Association of Realtors® is predicting upward growth on Missouri home values to the tune of up to 3.2 percent in 2014—a number that could easily be eclipsed in an area as attractive as Fenton. And, as mortgage rates are only expected to rise, now could be as good a time as any to get in on this market just 20 minutes southwest of the heart of St. Louis proper.
"The area is convenient to almost anywhere. With easy access to highways 141, 30, 270 and 44, you're only about 20 minutes away no matter which direction you're heading," said Christine Mastis of Prudential Alliance, REALTORS®. "With so many parks, retail shops and entertainment venues in the Fenton area, you don't need to leave for much of anything, which is why so many buyers are choosing to call Fenton their home."
For those thinking of making this move, it's worth taking in a short rundown of the educational opportunities that await in the Fenton area. For starters, the Fox district in Jefferson County is home to Fox High School and Seckman High School.
Fox High School is occupied by roughly 2,000 students, has been awarded by the state for "Distinction in Performance" several times and holds a 98.4 percent graduation rate. The top-tier primary education systems here are even more lauded, having earned the "Distinction In Performance" award 11 years running. Also in Jefferson County, the Northwest District is home to Northwest High School, which houses roughly 2,200 students and is known for both its academic and athletic excellence.
As for St. Louis County, the Rockwood and Lindbergh Districts are two well-reputed academic systems within the area. In these districts, Lindbergh High School has made Newsweek's list of "1000 Best High Schools in the Country." Additionally, Rockwood is home to four high schools, including Eureka, Lafayette, Marquette and Rockwood Summit. Also, the district houses more than 25 early childhood, elementary and middle schools. In turn, one could see why those looking to buy a Fenton home would be excited about the seemingly limitless schooling opportunities for children and teenagers alike.
"Fenton has always been a unique suburb to shop for a home because of its many options, including two separate counties and four different school districts," Mastis added. "This diversity causes Fenton residential real estate home values to vary, in some cases even by streets within the same neighborhood. This makes my job as an expert Realtor in Fenton even more critical to the buying and selling process for clients as I am able to offer a realistic value and turn-around time for their transaction."