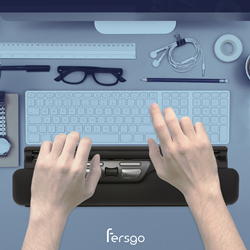 (PRWEB) July 17, 2017
You may be a relatively fit and healthy person, doing all you can to have a balance between work and home life. But there are some very common methods of working can cause permanent damage.
RSI, or repetitive strain injuries, are quite common among office workers and those who do extensive computer work. It is, essentially, a muscle disorder. And CTS, or carpal tunnel syndrome is one typical syndrome of RSI. The effects of CTS can cause great inconvenience in every area of your life, especially if spending long hours at a computer. Think about whether you have suffered inflammation or pain in any of the following parts: hands, wrists, thumbs, finger joints, neck, shoulders or back. And then, look carefully and see if there is a relation to this pain and the hours you are working for prolonged periods, straining over a computer. Did you notice the connection?

How to Ease the Discomfort of CTS
Before waiting for this condition to get worse, you should consider that any worse discomfort could prevent you from working in the future. And the longer you wait, the longer it will take to avail of proper treatment. Thus, the longer healing process will be.
So, the big question is: how to avoid the potential risks of CTS and RSI? First, let's look at the type of usage habits that are bad for the body:

The position of body in relation to your computer monitor
The position of fingers as they strain to hold the mouse
The way head has to lean forward when working
The easiest problem to start fixing is the position of the hand. Ideally, the focus should be concentrated in the center, and having to control a mouse with one hand makes this harder on wrists and joints.
A Simple and Intuitive Solution
This is why the Ergonomic Roller-Bar Mouse is ideal for wrist: Its built-in wrist pad was designed to ensure that wrist is well supported and always retains its neutral position.
The ergonomic benefits are many:
Its clean and simple design enables people to have more precision, control, and efficiency. It eliminates the need for a mouse. You simply place both your wrists on the wrist pad while typing, fingers on the roller bar and then rotate/slide the roller bar to move the cursor on the screen.
It's also easy to clean, with its removable roller bar and wrist pad. The cable-out direction is adjustable, no more long, messy cords to deal with; no more hand aches and pains. This is the ergonomically healthy solution for the workstation!
Plus, the Ergonomic Roller-Bar Mouse is a good investment and a great bargain. Just imagine how much money needs to be spent on treatment for carpal tunnel syndrome. The average cost is currently $29,000+. Besides, victims of musculoskeletal disorders (MSD) can lose many paid days in work.
To ensure health today, it's easy. Just get an Ergonomic Roller-Bar Mouse today at this link on Amazon.com.
Fersgo was founded in Taipei, the capital of Taiwan. We initially started out as a small team experts in various fields, ranging from ergonomic design, engineering and user experience. Our idea was to come up with an ergonomic product that could help us in the way we worked. Helping alleviate symptoms of RSI and pain. In our quest to ergonomic wisdom, we came up with 3 core beliefs, the product must deliver its purpose, its quality and feel must be premium and its design aesthetically pleasing.
Our Key Goals: To reduce pain while using the keyboard, better efficiency in hand movement, cursor control, and faster, more precise control.
Feelings x Ergonomics denotes that our products are designed to provide excellent user experience where you'll not only feel comfortable but enjoy an overall feeling of happiness resulting to higher performance and productivity.
With each team member's hard effort, we were able to establish a well-constructed supply chain as well as build mutual trust with our suppliers and global partners. We believe in providing quality at a fair-price. We continue to innovate, and are constantly bringing to reality our ergonomic dreams, aspirations and designs of ergonomic-friendly essentials for a more happier you.
For more information, please visit http://fersgo.com/ and follow our facebook fan page!