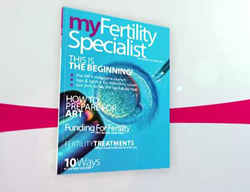 Woman with personal experience with infertility launches new magazine
(PRWEB UK) 14 October 2014
Sheila Lamb, founder of My Fertility Specialist Magazine, has recently launched a KickStarter campaign and hopes that with the help of supporters, the one-of-a-kind fertility magazine can be completed and published successfully.
As a woman diagnosed with "unexplained infertility," Lamb has a very personal and passionate connection with the context behind My Fertility Specialist magazine. She spent six dreadful years enduring tests, injections, and IVF treatments, among other abundant expenses. As a nurse and a midwife, she was fortunate to have enough knowledge to understand some of the information that was available on the internet regarding infertility. After a great deal of research and even more patience, she and her husband were lucky enough to be blessed with a daughter.
My Fertility Specialist Magazine is a free, online, bi-monthly magazine overflowing with fertility news, information about webinars and events, articles from experts, book recommendations, other people's true stories, helpful websites, etc. Its purpose is to save couples from the agony of endless fertility research by providing a plethora of vital information, and relevant news and advice, all in one place. After doing market research, including surveys on Fertility Friends, and other popular forums, Lamb found that 95% of readers would find a magazine like this helpful, and that 90% would recommend a magazine like this to others. She decided that with fertility problems affecting more people globally than most realise – approximately 1 in 7 couples worldwide – she needed to create something unique to get the word out there.
"I felt there was a hole in the market for a magazine with easy to understand explanations of the technical side of fertility, and of the latest methods, as well as tips and advice," explained Lamb. With her medical background and personal experience, it is her ambition to share this knowledge with others and to help couples who may be enduring similar situations. "I am passionate about everything to do with fertility/infertility and as I have also gone through it, I believe this puts me more in touch and builds trust with future readers of the magazine," she continued.
The first issue of My Fertility Specialist is set to launch in January, 2015; ironically, this falls exactly 9 months from the time Lamb began her initial research. The magazine will be free online, and will be available via subscription as a print copy. Readers will also receive a weekly newsletter detailing the latest news/events from around the world. "There is always something new being reported, be it an idea, opinion, technical advancement – that's why 'My Fertility Specialist' magazine has longevity," Lamb explained.
With the launch of the KickStarter campaign, she hopes to raise £12,000. The funds will enable her to complete issues 1 and 2 of the magazine. Specifically, additional funding will go to designing and printing enough hard copies to distribute to all backers and subscribers, as well as fertility clinics, women's health clinics, hospitals, GP surgery, and fertility experts, completing the fully interactive website, and launching marketing/advertising campaigns.
"To share my knowledge and help others has always been my dream, and therefore if the funds allow, I would love to be able to hire staff, have a marketing budget and an office to work from, instead of the dining room table!" Lamb exclaimed. There will be specific rewards for supporters who donate to My Fertility Specialist on KickStarter. Some of the rewards include: having backers names or photos placed in the first issue, their own personal fertility stories featured in future magazine issues, single page advertisements within the first two issues, and of course, plenty more. It's best to donate earlier rather than later, for some rewards are limited and may end up "sold out." A successful KickStarter campaign will result in establishing a secure foundation for My Fertility Specialist magazine, and ensuring a positive and fruitful future. "With your help, I will be the proud owner and editor of My Fertility Specialist magazine – the second best job in the world! The best job? Being a Mum," said an optimistic Sheila Lamb.
To support Sheila Lamb in the completion of My Fertility Specialist magazine, visit her KickStarter page at https://www.kickstarter.com/projects/825489312/my-fertility-specialist-magazine.
For more information, visit http://www.myfertilityspecialist.com or contact Sheila Lamb at sheila(at)myfertilityspecialist(dot)com.