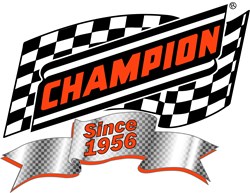 Champion Oil to Sponsor Festivals of Speed at Amelia Island
Clinton, MO (PRWEB) January 31, 2014
Festivals of Speed, now in its tenth year, produce a series of successful luxury lifestyle weekends featuring the world's finest vintage and contemporary automobiles, motorcycles, watercraft, and aircraft placed for display at exclusive venues. Festivals of Speed also showcases the world's finest luxury lifestyle products including, jewelry, fine art, exquisite dining experiences, select wine and spirits, fashion, premier real estate, and more from the newest and most luxurious lifestyle products and services.
In addition, Festivals of Speed specializes in automobile and luxury brand marketing as well as individualized client hospitality and new client events. For more information, on Festivals of Speed events, marketing, and branding opportunities contact 352-385-9450 or festivalsofspeed(at)comcast(dot)net
"Champion Oil is proud to support The Festivals of Speed and be part of such a great event," said Peter Romero, Strategic Account Manager at Champion. "The high profile of these performance vehicles is really a good match to showcase our "Purpose-Built" lubricants for exotic, hot-rod, classic and muscle car engines."
To meet these demands, Champion utilizes its premium ZDDP anti-wear protection package, which contains a unique balance of chemistry that includes high levels of zinc and phosphorus. In addition, all Champion Racing Motor Oils contain an exclusive TVS® (Thermal Viscosity Stabilizer) technology. This proprietary technology delivers unmatched film strength at high temperature, better piston ring seal for maximum compression, and increases horsepower and torque in most engines.
About the company:
Champion Brands, LLC, is a globally recognized industry leader in specialty lubricants for over 55 years. Champion Brands, LLC also produces and blends over 350 products including fuel, oil, engine additives, and lubricants for the racing, automotive, heavy truck, agricultural, industrial, and specialty markets. For more information about Champion Racing Motor Oils contact your nearest Champion distributor, or call Champion at 800-821-5693 or 660-885-8151. Champion Brands, LLC; 1001 Golden Drive, Clinton, MO, or go to http://www.championbrands.com.