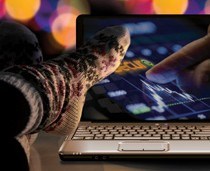 Fake Christmas messages sent via emails, often with attachments that look like e-cards are common attempts that hackers will use to spread malware at this time of year.
(PRWEB UK) 22 December 2013
The Christmas period is notorious for spammers and hackers trying to infect computer systems while unsuspecting users let their guard down.
Taylor Made Computer Solutions are warning businesses to be on high alert for suspicious communications - particularly those with a Christmas or New Year theme.
There have already been two major global virus infections towards the end of 2013.
The recent "Sobig.F" virus infected computers in 134 countries in under 96 hours and was the fastest growing virus of all time (1). The virus used fake emails that when opened, sent duplicate copies to every contact in the users address book.
While Sobig.F impacted systems speed, the Cryptolocker virus actually held users to ransom by encrypting all their files and asking for payment for them to be released. The malware used a similar approach to Sobig.F by utilising fake emails to catch users out.
Subsequently Taylor Made are urging their customers not to allow themselves to be fooled with emails from unexpected sources this festive season.
Managed Services Engineer, Simon Delaney said "Throughout the years that people have been using computers both for business and personal use, hackers have always taken advantage of the Christmas period."
He added "Fake Christmas messages sent via emails, often with attachments that look like e-cards are common attempts that hackers will use to spread malware at this time of year."
The Fareham based IT solution firm have been recommending the necessary preventative measures against such attacks but also what to do if their customer's systems do become comprised.
They are advising clients not to open emails from any unexpected or unrecognised sources. However, even attachments from recognised sources should not be opened unless the user is aware of them in advance.
Managed Services Manager at Taylor Made, Pete Hughes said "In case you do open malicious emails - there are two important steps to take in order to protect your business from the sort of malware attacks that we see all too often during the Christmas period.
Firstly it's vital that you have deployed anti-virus software across your network that monitors and prevents potential threats before they impact your systems. Unfortunately as anti-virus software evolves so do the viruses that are designed to get around them – so you need a backup plan, literally.
We highly recommend using an off-site and online backup product to ensure you can fully restore your critical data if a virus gets past your protective software."
Taylor Made have created an online backup service designed specifically to give businesses the capability to fully restore their data in the event of severe virus infection and complete data loss – Securo Backup and Recovery.
The purpose of Securo is to allow for business continuity regardless of internal system/data comprise. It does this by taking near real time snapshots of data in the cloud so that the backup is constantly being updated.
In the event that a virus affects a business network, companies can rest assured that the data required to keep their business running is stored off-site in Taylor Made's two data centres in Hampshire.
Taylor Made offer the product on a managed and unmanaged basis, allowing businesses to choose a solution that best suits their individual requirements. A managed backup subscription is particularly convenient for businesses over the Christmas period because the backup protocol is fully outsourced – requiring no manpower on their part.
Anybody suspecting that they have been effected by a virus can get advice and support by contacting Taylor Made's service desk on 01329 226 900.
More information about the Securo Backup and Recovery product can be found on their website or by calling 0845 241 9696.
(1) http://www.dailymail.co.uk/news/article-193396/Millions-hit-virus.html