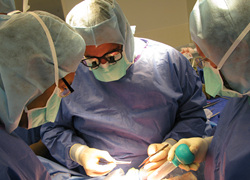 "Our experience over the past three years mirrors the MOMS research results," says Vlastos
St. Louis, MO (PRWEB) June 03, 2014
Since May 2011 the team at the SSM St. Louis Fetal Care Institute has given 34 babies with Myelomeningocele a better chance to walk, and decreased the risk of brain damage with an innovative fetal surgery, before the babies were born. Myelomeningocele, the most severe form of spina bifida can cause irreversible paralysis and brain damage before birth. As the fetus develops, the skin on the back does not close and the nerves of the spinal cord are left exposed, open to damage.
Three years ago, the St. Louis Fetal Care Institute was one of the first centers in the world to offer the operation after the release of the MOMS (Management of Myelomeningocele) trial results. The surgery is performed at SSM St. Mary's Health Center. Since then, the team has evaluated more than 45 patients carrying a baby with myelomeningocele. There are currently 16 fetal care centers offering the surgery in the United States.
"Research shows that babies who receive the surgery before they are born have a better chance of walking, and a decreased chance of needing a brain shunt to release excess fluid," says SSM St. Louis Fetal Care Institute Director, Dr. Mike Vlastos, who is a fetal surgeon and maternal fetal medicine specialist. "Our experience over the past three years has mirrored this research."
"To increase the likelihood of positive outcomes for our moms and babies, we follow strict medical guidelines set by the MOMS Trial, and all of our families receive extensive counseling to ensure the surgery is the right choice for them," says Vlastos. "When it comes down to it, it is our families who make the decision if fetal surgery is right for them."
The fetal myelomeningocele repair surgery, which is performed between 19 and 26 weeks into a pregnancy, involves making a small opening in the uterus to expose the baby's back, then closing the spinal cord opening of the baby; the womb is repaired and the mother is in the hospital for four to five days. The baby continues to develop inside the mother, and is delivered via Cesarean section at 37-weeks gestation. If a baby does not receive the prenatal repair, the myelomeningocele is repaired after delivery.
###
About The St. Louis Fetal Care Institute
The St. Louis Fetal Care Institute is a partnership between SSM Cardinal Glennon Children's Medical Center, SSM St. Mary's Health Center and Saint Louis University School of Medicine. Bringing together renowned maternal-fetal medicine (MFM) specialists, pediatric and fetal surgeons, specialized nurses, cutting-edge technology, and a family-oriented approach, The Institute offers state-of-the-art diagnostic methods and treatment options for families whose unborn babies are facing medical challenges. It is one of the leading comprehensive fetal care programs in the country offering a variety of fetal interventions and treatments, including open and minimally invasive fetal surgery for babies in the womb.