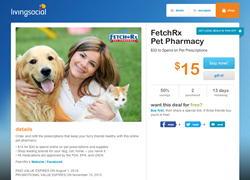 Asheville, NC (PRWEB) August 23, 2013
When a marketing program works, smart companies extend the program—which is exactly what FetchRx Pet Pharmacy is doing with its LivingSocial promotion.
On August 1, 2013, FetchRx Pet Pharmacy joined with one of the top coupon sites on the internet—LivingSocial.com. Since then, the response has been impressive, especially for a new online company like FetchRx. Over one thousand customers have responded to the offer, taking advantage of FetchRx pet medications and supplies already low prices by doubling their purchasing power.
LivingSocial.com offers customers the chance to score big on discount coupons to many businesses across the country. LivingSocial's "Me+3" deal also allows customers to post the link to their Facebook or other social media accounts or in an email to invite friends to join them in the super deals. If three friends click the link and make a purchase, the customer who posted the link gets the deal for free, compliments of LivingSocial. Companies like Starbucks and Whole Foods have used the site extensively, something that has proved a boon for both mega-companies. Now smaller companies are entering the competition and reaping great results. Enter FetchRx Pet Pharmacy.
The online pet supply company based in Asheville, NC has decided to extend its original offer to customers for $30 worth of pet medications and supplies for only $15! The sale is now extended through August 28, a full two weeks longer than originally anticipated.
Customers interested in increasing their purchasing power and discovering some great pet products at prices way below vet and supermarket pricing are encouraged to visit the website before the sale ends at FecthRx.com or call 888-732-3979 to learn more about the company.