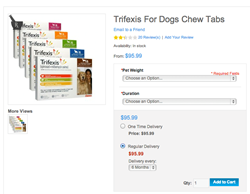 FetchRx hopes that by signing up for the Auto-Reorder Program, lapses in pet medications, like Trifexis, will be significantly reduced.
Asheville, NC (PRWEB) January 30, 2014
FetchRx, an online pet pharmacy and supply company based in Asheville, North Carolina, has recently installed an Auto-Reorder Program for all pet medications. Features of this system allow pet owners to set medications such as heartworm preventatives, flea and tick preventatives, prescription medications and pet supplements to be automatically reordered at the customer's desired interval.
Among medications offered within this program are best-sellers such as Novartis Sentinel Flavor Tabs, Trifexis, Comfortis, Heartgard, and Frontline. FetchRx hopes that by signing up for the Auto-Reorder Program, lapses in pet medications will be significantly reduced. Administering parasite preventatives such as Trifexis and Comfortis on a scheduled basis ensures continued protection from potentially dangerous organisms that pets come in contact with on a regular basis. For pets who need ongoing medications such as insulin injections or anti-seizure medications, the Auto-Reorder Program offers customers a convenient way to get low-priced medications shipped directly to their door without having to always go to the veterinarian. FetchRx believes that no pets should have to wait for the medications they need.
All medications sold on FetchRx.com are FDA, EPA, and USDA approved. These are the same name brand medications offered by veterinarians but at a fraction of the cost. FetchRx Pet Pharmacy is a division of Aeroflow Healthcare, who has been serving customers in the field of medical equipment, home respiratory and human and pet prescriptions for more than a decade. For more information on the types of pet medications and supplies, and discounted prices call 888-732-3979 or visit http://www.fetchrx.com.