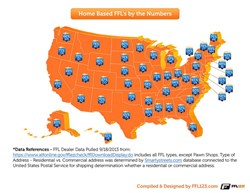 The home based FFL is over 64% of the US licensed FFL holders...
Sioux Falls, South Dakota (PRWEB) September 24, 2013
A recently conducted study by popular Federal Firearms License dealer FFL123.com suggests that there is very little element of truth in the common conception about the FFL location requirements. Over the years, most of the Americans have nurtured a belief that it is important to have a store front to get FFL License. The analysis carried out by FFL123.com is the first ever research to be conducted on this topic in the United States. As per the result of this study, more than 64% of America's FFL holders operate out of their homes. More importantly, all of these dealers have been catering top class service to their customers.
FFL123.com started as a home based company and currently is a FFL License dealer and a Class 3 dealer in four different states. At the present, their main area of focus is the Class 3 FFL dealership. The CEO and owner of the company Brandon Maddox is known for his thorough understanding of the FFL approval process in different states. The A+ rated Better Business Bureau accredited business has been maintaining a 100% positive feedback on eBay and GunBroker.
Americans are known for their love for guns. A FFL License allows a common American citizen to purchase guns at wholesale prices. License holders can also sell firearms online or at the local gun shows. The research conducted by FFL123.com is of great relevance to all home based firearm dealers in America. A huge amount of data were analyzed by FFL123.com for this research. The owner of FFL123.com Brandon Maddox sums up the findings of the study saying, "This new analysis debunks and clearly disproves a long held urban legend regarding FFL location requirements. The home based FFL is over 64% of the US licensed FFL holders, bringing a great service to many gun owners." Please see the map as part of this article, which summarizes the data.
According to FFL123.com, over 80 % of all license holders in the states of Alaska, North Dakota, and Wyoming are Home FFL dealers. This percentage is well over 70% in states such as Iowa, Idaho, Illinois, Maine, Minnesota, Montana, Nebraska, South Dakota, etc.
To access the comprehensive state wise analysis of data, please visit here.
About FFL123.com: Founded in 2005, FFL123.com assists gun owners, collectors and business people in obtaining a federal firearms license through simplifying the application process. The organization is owned and operated by firearms industry expert Brandon Maddox. Maddox is one of the largest FFL and Class 3 dealers in the country and holds advanced degrees in Pharmacy and Business from University of North Carolina Chapel Hill and Duke University respectively. FFL123.com has assisted over 50,000 people in all 50 states obtain their FFL License.