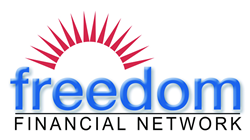 With a few steps in the right direction, back-to-school shopping can be an education in itself.
San Mateo, Calif. (PRWEB) August 28, 2014
As families prepare to send their kids back to school, the airwaves and mailboxes are loaded with back-to-school sales, tempting people to get out and spend. But families do not need to, and should not, go into debt to prepare for school – if they have an education in smart choices and bargain shopping, says Kevin Gallegos, vice president of Phoenix operations for Freedom Financial Network (FFN).
This year's National Retail Federation survey of back-to-school shopping reports that the average family with children in grades K-12 will spend $669.28 on apparel, shoes, electronics and other school supplies, 5 percent more than last year.
"Expenses seem to climb annually, but it's not necessary for families to break the bank to prepare their kids for the new school year," Gallegos said. "With a few steps in the right direction, back-to-school shopping can be an education in itself."
Gallegos suggested that families investigate the following areas when building a back-to-school budget.
1. Involve the kids. Parents may want to give their children all they can, but one of the greatest gifts is not a material one. Gallegos suggests parents engage kids in back-to-school shopping. "It's the perfect opportunity for kids, especially teens, to learn that everything has a price, and that going into debt is not an option." Adults can establish a back-to-school budget. Then they can divide that budget, in cash, into envelopes for each child. With adult supervision, kids can pay for some needed items from their envelopes. When the cash is gone, the shopping is done.
2. Buy needs, not ads. Sales promotions can be persuasive. Ads make it appear that every child goes to school in all-new clothes every year, and furnishes a dorm room top to bottom. "In reality, the weather is still warm for months after school begins, and many kids can wear an existing wardrobe, rather than buying and potentially outgrowing a new one before the holidays," Gallegos points out. "Students can re-use lunch boxes and backpacks, too." Focusing on replacing just a few needed items can be a major budget-saver.
3. Take advantage of tax savings. Some states offer tax-free dates when the sales tax is waived on clothing or school purchases up to a certain amount. Find out which states participate (and when) at the Federation of Tax Administrators.
4. Recycle. Go beyond hand-me-downs to re-use clothes and supplies – and maximize funds. Check out consignment shops, both to buy and to turn outgrown garments into cash or credit. Chains such as Plato's Closet and Buffalo Exchange make thrift shopping chic, even for label-obsessed teens. Specialty stores like Play It Again Sports stretch athletic budgets, and eBay and Craigslist offer everything from equestrian boots to soccer goals at a discount.
5. Tackle technology expenses. Kids might want the latest Macbook Air or PC, but before a family goes into debt to buy a new computer, do a reality check, Gallegos suggests. "Many schools that require specific technology tools also provide those tools," he says. "In other cases, kids don't need the high-tech toys." If older kids in high school and college genuinely need tech tools, look for student specials, or check out refurbished items that come with solid warranties at a lower price. Also consider bare-bones options like the Chromebook.
6. Manage health costs. Back-to-school is a great time to make sure families are protected in case of medical expenses. If a family does not have health insurance policies that cover children, most states have insurance plans available for kids. Find information on individual state programs via Insure Kids Now. For young adults, the Affordable Care Act allows parents' plans to continue to cover children up to age 26. In the fall, many children need to update immunizations, get an annual checkup or obtain a sports physical. "Check whether the best bet for your family is to combine services into one doctor's office visit or to visit a free-standing health clinic to minimize these costs," Gallegos said.
7. Remember to plan for college. School expenses for K-12 students are nothing compared to college, Gallegos reminds families. "Back-to-school is a good reminder to begin, or update, a financial strategy for college," he says. Investigate costs and scholarships, and gain a realistic expectation of the family's and student's contribution to an education. The College Board's "estimated family contribution" calculator is a good starting point.
For more back-to-school financial tips, editors can get in touch with Kevin Gallegos via Aimee Bennett at aimee(at)faganbusinesscommunications(dot)com.
Freedom Financial Network (http://www.freedomfinancialnetwork.com)
Freedom Financial Network, LLC (FFN), provides comprehensive consumer credit advocacy services. Through the FFN family of companies – Freedom Debt Relief, Freedom Tax Relief, ConsolidationPlus, FreedomPlus and Bills.com – FFN works as an independent advocate to provide comprehensive financial solutions, including debt consolidation, debt resolution, debt settlement and tax resolution services for consumers struggling with debt. The company, which has resolved more than $3 billion in debt and assisted more than 265,000 clients since 2002, is an accredited member of the American Fair Credit Council, and a platinum member of the International Association of Professional Debt Arbitrators.
Based in San Mateo, Calif., FFN also operates an office in Tempe, Ariz. The company, with 650 employees, was voted one of the best places to work in the San Francisco Bay area in 2008, 2009, 2012, 2013 and 2014, and in the Phoenix area in 2008, 2009, 2010, 2012 and 2013. FFN's founders are recipients of the Northern California Ernst & Young Entrepreneur of the Year Award.
(end)