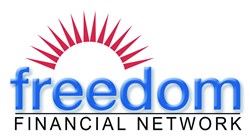 Every year, our company sees a jump in consumers who need help managing their debt after the holidays.
San Mateo, CA (PRWEB) December 17, 2013
In a worrisome signal for consumers' financial health, U.S. revolving and non-revolving debt already has climbed upward as of October, before holiday spending – traditionally a time when consumer debt builds – has even been recorded, according to the Freedom Financial Network Quarterly Comment on consumer debt and credit issues.
Freedom Financial Network observes several economic indicators closely and provides consumer education in its work to help consumers get out of debt and stay out of debt.
"The average consumer plans to spend more than $737 this holiday season, and many people will put much of that spending on credit cards, which will result in even higher revolving debt," said Kevin Gallegos, vice president of Phoenix operations for Freedom Financial Network (FFN), quoting survey figures from the National Retail Federation. "Every year, our company sees a jump in consumers who need help managing their debt after the holidays. At this point, with credit card debt already skyrocketing, and personal income actually down, we are concerned that many thousands of consumers will find themselves unable to pay off their debt in the New Year."
The Federal Reserve has projected that total consumer debt rose by 7.1 percent in October. Consumer revolving debt, which includes credit card debt, has been declining, but the Fed projects that it shot up by 6.1 percent total in October.
"With consumer confidence still unsteady, and unemployment decreasing slowly, now is not the time for consumers to go into more debt," added Andrew Housser, FFN co-founder and CEO. "People need to be cautious with their holiday shopping. Make a holiday budget, and don't succumb to the idea that holiday spending can be unlimited. If you do, when the holidays are a distant memory, you'll still be paying. That can quickly lead to long-term financial problems that last long past the season."
Recent financial data as reported:
1. Total consumer debt climbs. For October, consumer credit was projected to have climbed, year over year, by 7.1 percent. The increase will bring total consumer debt (excluding mortgage debt) to $3.075 trillion, setting a new high for the 26th consecutive month.
2. Revolving debt slips downward – then shoots up. Total consumer revolving debt, which includes credit card debt, slid downward at a year-over-year rate of 0.3 percent in September, but is projected to have zoomed upward by 6.1 percent in October. This brings the total amount of revolving debt held by U.S. consumers to $856.8 billion for October, the highest rate since 2009.
3. Non-revolving credit grows quickly. Non-revolving consumer debt – which includes auto and RV loans, and education loans – is still moving up, to a projected $2.219 trillion October. Annual growth in non-revolving credit was projected at 7.5 percent for October.
4. Personal income falls. In October (the most recent data available), personal income decreased by $10.8 billion, or 0.1 percent. Disposable personal income also declined by $23.6 billion or 0.2 percent, the Bureau of Economic Analysis reports.
5. Unemployment drop. The U.S. Bureau of Labor Statistics reports the unemployment rate declined from 7.3 percent – where it had been since August – to 7.0 percent. The number of people who are unemployed also declined to 10.9 million.
The FFN Quarterly Comment pulls together significant statistical releases and provides quarterly comment on timely debt and credit issues that matter to consumers. To schedule an interview with Kevin Gallegos or Andrew Housser, contact Aimee Bennett at 303-843-9840 or aimee(at)faganbusinesscommunications(dot)com.
Freedom Financial Network (http://www.freedomfinancialnetwork.com)
Freedom Financial Network, LLC (FFN), provides comprehensive consumer credit advocacy services. Through the FFN family of companies – Freedom Debt Relief, Freedom Tax Relief, ConsolidationPlus, FreedomPlus and Bills.com – FFN works as an independent advocate to provide comprehensive financial solutions, including debt consolidation, debt resolution, debt settlement and tax resolution services for consumers struggling with debt. The company, which has resolved more than $2 billion in debt for more than 200,000 clients since 2002, is an accredited member of the American Fair Credit Council, and a platinum member of the International Association of Professional Debt Arbitrators.
Based in San Mateo, Calif., FFN also operates an office in Tempe, Ariz. The company, with more than 600 employees, was voted one of the best places to work in the San Francisco Bay area in 2008, 2009, 2012 and 2013, and in the Phoenix area in 2008, 2009, 2010, 2012 and 2013. FFN's founders are recipients of the Northern California Ernst & Young Entrepreneur of the Year Award.
(end)