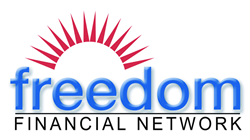 Consumers are feeling credit cards burning a hole in their pocket, which is a significant concern during this volatile time.
San Mateo, Calif. (PRWEB) September 24, 2015
U.S. consumers continued to ramp up credit card debt and spending in July, according to the Freedom Financial Network Quarterly Comment on consumer debt and credit issues.
Just weeks after the latest data indicating that U.S. consumers pushed household debt to a new high for the 44th consecutive month in July (the most recent figures reported), global stock markets fell in early September. At the same time, U.S. economists are revising estimates of national economic growth, from wages to unemployment to the household spending that drives much of the economy.
"We're in an interesting time, with unemployment down and income up, at the same time that various economists are predicting a possible global recession," said Kevin Gallegos, vice president of Phoenix operations for Freedom Financial Network (FFN). "Certainly, it appears that consumers are feeling credit cards burning a hole in their pocket, which is a significant concern during this volatile time."
In the past few years, consumers have concentrated most of their higher debt burden in non-revolving accounts, a sector that includes vehicle loans and educational loans. During the last quarter, however, revolving debt accounts are increasing nearly as fast as non-revolving accounts.
"On the one hand, it is possible that consumers are feeling more confident, and spending on appliances, vacations or home improvement – items often funded with credit cards, and which purchasers may have put off in the wake of the Great Recession," added Andrew Housser, FFN co-founder and CEO. "On the other hand, if more households are charging day-to-day or emergency expenses, this certainly would be concerning for their financial stability. We will continue to monitor the situation to determine if these debt loads continue to climb."
Freedom Financial Network observes several economic indicators closely and provides consumer education in its work to help consumers get out of debt and stay out of debt.
Recent financial data as reported:
1. Consumer debt continues its upward trend; revolving and non-revolving debt begin to level out. In July (the most recent data available), total outstanding consumer credit rose by 6.7 percent, to a total consumer debt projected at $3.453 trillion, excluding mortgage debt. Outstanding debt has hit a new high each of the past 44 consecutive months. Notably, in July, revolving debt and non-revolving debt increased at a comparable pace – 5.7 percent and 7.0 percent, respectively. For the past several years, non-revolving debt (debt for items such as vehicles and education) has increased much faster than revolving debt (installment debt that includes credit cards).
2. Personal income improves again. In July (the most recent data available), personal income rose by $67.1 billion, or 0.4 percent, a pace that has held steady for the past quarter. Disposable personal income increased by 0.5 percent, or $61.5 billion. Personal spending increased a bit more slowly, by 0.4 percent, in July. Wages and salaries rose by $35.8 billion in July, compared with $14.3 billion in June – nearly three times the pace.
3. Consumers continue to save, but more slowly. In the spring, consumers were saving more than 5 percent of their income (5.6 percent in April and 5.2 percent in March). This summer, that rate declined slightly, to 4.7 percent of income in June, and 4.9 percent in July.
4. Unemployment creeps downward. In August, the U.S. unemployment rate was 5.1 percent, 0.4 percent lower than in the last FFN Quarterly Comment, in May. The overall employment picture is improved since last fall. The number of people who are employed part-time, but would like more employment, has declined by 200,000 in the last three months, to 6.5 million. The number of long-term unemployed people in the U.S. has decreased by 779,000 in the past 12 months.
The FFN Quarterly Comment pulls together significant statistical releases and provides quarterly comment on timely debt and credit issues that matter to consumers. To schedule an interview with Kevin Gallegos or Andrew Housser, contact Aimee Bennett at 303-843-9840 or aimee(at)faganbusinesscommunications(dot)com.
Freedom Financial Network (http://www.freedomfinancialnetwork.com)
Freedom Financial Network, LLC (FFN), provides comprehensive consumer credit advocacy services. Through the FFN family of companies – Freedom Debt Relief, Freedom Tax Relief, ConsolidationPlus, FreedomPlus and Bills.com – FFN works as an independent advocate to provide comprehensive financial solutions, including debt consolidation, debt resolution, debt settlement and tax resolution services for consumers struggling with debt. The company, which has resolved more than $4 billion in debt and assisted more than 300,000 clients since 2002, is an accredited member of the American Fair Credit Council, and a platinum member of the International Association of Professional Debt Arbitrators.
Based in San Mateo, California, FFN also operates an office in Tempe, Arizona. The company, with more than 850 employees, was voted one of the best places to work in the San Francisco Bay area in 2008, 2009, 2012, 2013 and 2014, in the Phoenix area in 2008, 2009, 2010, 2012, 2013 and 2014. FFN's founders are recipients of the Northern California Ernst & Young Entrepreneur of the Year Award.