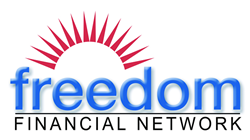 Revolving debt is declining, while consumers are saving more of their income, even as unemployment numbers remain steady.
San Mateo, Calif. (PRWEB) March 25, 2015
As 2015 gets rolling, many consumers appear to be benefiting from a modestly strengthening economy, with higher income, greater savings and lower credit card debt, notes the Freedom Financial Network Quarterly Comment on consumer debt and credit issues.
Freedom Financial Network, LLC, observes several economic indicators closely and provides consumer education in its work to help consumers get out of debt and stay out of debt.
"The most recent quarterly data point to a trend of personal income rising sufficiently that consumers' earnings are actually outstripping their spending for bare necessities, for the first time in many months," said Kevin Gallegos, vice president of Phoenix operations for Freedom Financial Network (FFN). "As a result, revolving debt is declining, while consumers are saving more of their income, even as unemployment numbers remain steady."
In part, the decline in personal spending in January (the most recent data available) could be attributed to lower gasoline prices this past winter, Gallegos noted. FFN also observed that non-revolving debt, such as vehicle loans, increased notably in January, while revolving credit (such as credit cards) fell.
"With the Great Recession now well behind us, and perhaps spurred on by recent lower gas prices, consumers are investing in new vehicles," added Andrew Housser, FFN co-founder and CEO. "Some experts have predicted that the auto industry will see record vehicle sales in 2015. Consumers should remember, however, that we are still witnessing tremendous potential for economic volatility. Therefore, cautious optimism – and avoiding excessive debt – remains the wisest approach."
Recent financial data as reported:
1. Total consumer debt continues slow-but-steady increase. In January (the most recent data available), consumer credit rose by 4.2 percent, year over year. With the increase, total consumer debt (excluding mortgage debt) is projected at $3.279 trillion, which is $11.6 billion higher than the previous month. This increase is due to rising non-revolving debt (debt for vehicles and education loans), which increased by 6.3 percent; revolving debt actually declined. Outstanding debt has hit a new high each of the past 38 consecutive months.
2. Revolving debt decreases in January. Total consumer revolving debt, which includes credit card debt, decreased by 1.5 percent in January. U.S. consumers now hold total revolving debt of $887.9 billion. This is $1.1 billion lower than in December, although it is $5.3 billion higher than a quarter earlier, in October.
3. Personal income rises, while spending falls. In January (the most recent data available), personal income rose by $50.8 billion, or 0.3 percent, a pace slightly higher than that of the past few months. Disposable personal income increased by 0.4 percent, or $52.6 billion. Personal spending actually decreased by 0.2 percent in January.
4. Consumers boost savings. In January, consumers used some of their additional income to save 5.5 percent of their income, up 0.5 percent from the savings rate through the end of 2014.
5. Unemployment rate drops. The national unemployment rate was 5.5 percent in February, down from 5.7 percent in January. The last time unemployment was that low was May 2008. However, 6.6 million people are still underemployed in the United States.
The FFN Quarterly Comment pulls together significant statistical releases and provides quarterly comment on timely debt and credit issues that matter to consumers. To schedule an interview with Kevin Gallegos or Andrew Housser, contact Aimee Bennett at 303-843-9840 or aimee(at)faganbusinesscommunications(dot)com.
Freedom Financial Network (http://www.freedomfinancialnetwork.com)
Freedom Financial Network, LLC (FFN), provides comprehensive consumer credit advocacy services. Through the FFN family of companies – Freedom Debt Relief, Freedom Tax Relief, ConsolidationPlus, FreedomPlus and Bills.com – FFN works as an independent advocate to provide comprehensive financial solutions, including debt consolidation, debt resolution, debt settlement and tax resolution services for consumers struggling with debt. The company, which has resolved more than $3.5 billion in debt and assisted more than 300,000 clients since 2002, is an accredited member of the American Fair Credit Council, and a platinum member of the International Association of Professional Debt Arbitrators.
Based in San Mateo, California, FFN also operates an office in Tempe, Arizona. The company, with 750 employees, was voted one of the best places to work in the San Francisco Bay area in 2008, 2009, 2012, 2013 and 2014, in the Phoenix area in 2008, 2009, 2010, 2012, 2013 and 2014. FFN's founders are recipients of the Northern California Ernst & Young Entrepreneur of the Year Award.
(end)