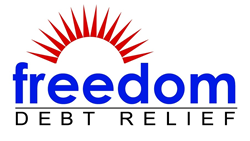 It is good to see people continuing to learn from the lessons of the recession, investing in durable purchases such as vehicles, and in the long-term benefit of education, rather than running up credit card debt.
San Mateo, Calif. (PRWEB) March 10, 2016
As the end of the first quarter of 2016 approaches, consumers seemingly remain committed to a stable path of saving, investing in real property and avoiding credit card debt, according to the Freedom Financial Network Quarterly Comment on consumer debt and credit issues.
In January and February, the most recent months on record, the consumer economy experienced higher income, higher savings rates and lower unemployment. Notably, consumer revolving debt – the category that includes credit card debt – actually decreased, year over year, by 1.5 percent.
"That decrease is significant, especially in tandem with the news that credit card charge-offs – debt that companies write off as unlikely to be paid – are at their lowest point since 2007," said Kevin Gallegos, vice president of Phoenix operations for Freedom Financial Network (FFN). "The decrease indicates that many consumers are succeeding in paying off their debt. Yet we have seen a small uptick in credit card charge-offs in the last two quarters, which is a cautionary note that consumers should remain wary."
Credit card delinquency rates were at 2.17 percent in the fourth quarter of 2015, the most recent reporting period. That compares to a high of 6.81 percent in mid-2009.
Non-revolving debt – which includes loans for vehicles and education – increased by 5.5 percent. Continued lower gas prices, as well as new vehicle models, are driving people to buy new cars and trucks.
"It is good to see people continuing to learn from the lessons of the recession, investing in durable purchases such as vehicles, and in the long-term benefit of education, rather than running up credit card debt," added Andrew Housser, FFN co-founder and CEO. "Today's higher incomes and lower fuel prices offer consumers a good opportunity to save. This is an excellent time for consumers to build an emergency fund that could cover six to nine months of basic living expenses."
Freedom Financial Network observes several economic indicators closely and provides consumer education in its work to help consumers get out of debt and stay out of debt.
Recent financial data as reported:
1. Consumers continue to build non-revolving debt and pay down revolving debt. In January (the most recent data available), total outstanding consumer credit rose by 3.5 percent, to a total projected $3.543 trillion, excluding mortgage debt. Outstanding debt has hit a new high each of the past 50 consecutive months. In January, growth in non-revolving debt (debt for items such as vehicles and education, as well as unsecured installment loans) outpaced revolving debt (primarily credit cards) again. Non-revolving debt grew by 5.5 percent, while revolving debt actually decreased 1.25 percent.
2. Personal income continues to rise – and spending keeps pace. In January (the most recent data available), personal income increased for the third consecutive quarter, by $79.6 billion, or 0.5 percent. Disposable personal income also increased by 0.5 percent, or $63.5 billion. Personal spending kept pace, also increasing by 0.5 percent in January. Overall wages and salaries rose by $48.1 billion in January.
3. Personal savings rate holds steady. In January, consumers saved 5.2 percent of their income – the same as in December. This means that savings rates remain close to their highest levels in three years.
4. Unemployment remains modest. In February, the U.S. unemployment rate was 4.9 percent, edging down by 0.1 percent compared to last quarter. Over the past 12 months, the unemployment rate has declined by 0.6 percent, or 831,000 jobs.
The FFN Quarterly Comment pulls together significant statistical releases and provides quarterly comment on timely debt and credit issues that matter to consumers. To schedule an interview with Kevin Gallegos or Andrew Housser, contact Aimee Bennett at 303-843-9840 or aimee(at)faganbusinesscommunications(dot)com.
Freedom Financial Network (http://www.freedomfinancialnetwork.com)
Freedom Financial Network, LLC (FFN), provides comprehensive consumer credit advocacy services. Through the FFN family of companies – Freedom Debt Relief, ConsolidationPlus, FreedomPlus and Bills.com – FFN works as an independent advocate to provide comprehensive financial solutions, including debt consolidation, debt resolution, debt settlement and tax resolution services for consumers struggling with debt. The company, which has resolved more than $4 billion in debt and assisted more than 300,000 clients since 2002, is an accredited member of the American Fair Credit Council, and a platinum member of the International Association of Professional Debt Arbitrators.
Based in San Mateo, California, FFN also operates an office in Tempe, Arizona. The company, with more than 1,000 employees, was voted one of the best places to work in the San Francisco Bay area in 2008, 2009, 2012, 2013 and 2014, in the Phoenix area in 2008, 2009, 2010, 2012, 2013, 2014 and 2015. FFN's founders are recipients of the Northern California Ernst & Young Entrepreneur of the Year Award.
(end)