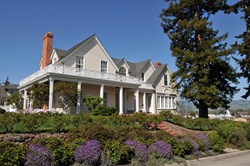 Unlike many mortgage programs, the FHA has expanded their qualifying guidelines to accept Kansas borrowers with 12 month old foreclosures, short sale, or bankruptcy.
Topeka, KS (PRWEB) October 03, 2013
Best Rate Home Loans (http://brhomeloans.com), a national network of mortgage professionals who are approved for the Federal Housing Administration's FHA Mortgage Program, reported homeownership opportunity for many Kansas residents is underway. FHA program's new Extenuating Circumstances Exception is making it possible to finance a home again for those who have lost their homes due to the inability to continue with their mortgage 12 months ago due to economic circumstances such as, loss of income or employment.
This news highlights the Federal Housing Administration FHA's new Back to Work Program guidelines. With the announcement made in August 2013, 2014 may be a better year for many Kansas residents and more housing developments to come. As far as how the new home builders are viewing the economy, according to the U.S. Census Bureau and the Department of Housing and Urban Development new residential construction numbers (as of September 18, 2013) reported an increase of 91,000 new housing permits filed compared to August of 2012 and August 2013.
As long as they can show a recovery of Satisfactory Credit for the past 12 months of stable income and non-existing major derogatory credit issues through documents they are eligible under FHA's new underwriting guidelines.
Click Here to check FHA Eligibility
Retrieved data compiled by the U.S. Bankruptcy Courts ( as of June 30, 2013) (Administrative Office of the U.S. Courts) for the number of bankruptcies filed, Kansas alone had a total of 8,443 bankruptcies filed just 12 months ago, with 5,309 under Chapter 7 and 3,128 under Chapter 13.
Based on RealtyTrac ( the leading online marketplace for foreclosed properties and real estate data), a report released (as of September 2013) for August, the number of properties that received a foreclosure filing in KS was 36% lower than a month ago and 39% lower than around the same time last year. This indicates that Kansas is slowly improving on their foreclosure rate.
Susan Waugh, Mortgage Professional at Hometown Mortgage Group LLC, an approved FHA lender in Kansas says,"The new Extenuating Circumstances Exceptions is certainly a blessing for many who have been waiting to buy again after having to overcome such financial obstacles. The American Dream of homeownership is now back within for Kansas renters who wish to buy again after a short sale, foreclosure, or bankruptcy."
According to a Mortgage Professional, Stephanie Fellers at Hometown Mortgage Group LLC, "As an FHA approved lender, we will work hard with HUD and other government insured programs such as the USDA and VA to ensure that all eligible Kansas homebuyers looking to buy again are guided in the right direction."
In order to qualify for FHA's grant under the Extenuating Circumstances Exceptions, Kansas borrowers are required to show that any experiences of financial hardship is not likely to resurface. All borrowers must meet HUD's requirements of Satisfactory Credit and complete Housing Counseling Requirements prior to submitting an application.
About The Federal Housing Administration Home Loan Program for Kansas:
The FHA provides mortgage insurance for a person to purchase or refinance a primary residence that is being funded by the bank in case of defaults. The release of the new FHA Buy Again After Program will help Boomerang Home Buyers become homeowners again.
The Satisfactory Credit surrounds specific documents and data collected prior to this exception being granted to them, such as:
Clear of late housing and/or installment debt payments, and any major derogatory credit issues relative to revolving accounts.
If there is a current open mortgage it must show twelve (12) months of satisfactory payment history. Any mortgage that has gone through loan modification either temporary or permanent must have all payments documented as received in accordance within the agreement in the modification.
The borrower must meet all requirements listed in the Mortgagee Letter.
FHA Program's Extenuating Circumstances Exceptions Guidelines for Kansas:
The two types of eligible economic events listed in the Extenuating Circumstances Guidelines, such as:
-Loss of Income
-Loss of Employment
There are two ways you must document the reason for loss of income, any one of these should be acceptable under the required guidelines:
1.) Written verification of employment (VOE) with documentations of the date and the amount showing that the income has in fact dropped.
2.) Tax returns signed or W-2's showing proof of loss income in the household.
The Extenuating Circumstances is if the loss resulted in at least a 20% drop in income or reduced income for 6 months.
For applicants with exceptional circumstances for loss of employment the following documents must be provided:
A written Verification of Employment (VOE) confirming the date of termination.
*If the exception is due to loss of employment was actually due to the employer running out of business then there are a few extra requirements such as:

Available public documentation of the business closing.
Documentation of unemployment income.
Click Here to check FHA Eligibility
Best Rate Home Loans is a nationwide online network of home loan professionals and lending institutions that are authorized to deal in the Federal Housing Administration's Back to Work Program (FHA). To learn more from a FHA specialist, call toll-free at (888) 699-2365.