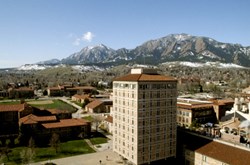 The strategy of finding the optimal mortgage loan has certainly become more complex with the advent of the FHA's mortgage hikes, but alternatives do exist for savvy Colorado borrowers.
Centennial, Colorado (PRWEB) September 09, 2013
For Colorado borrowers who did not obtain a FHA case number on their home loan prior to June 3rd, the unfortunate truth is that refinancing or borrowing on a new home loan via the FHA will now cost more. That said, for crafty borrowers who study the diverse lending options available in today's robust real estate economy, there are a plethora of options that could save them from the multi-tiered mortgage insurance hikes that the FHA recently installed to safeguard itself from potential taxpayer bailouts.
"The strategy of finding the optimal mortgage loan has certainly become more complex with the advent of the FHA's mortgage hikes," says Christian Durland, a senior mortgage expert at Envoy Mortgage in Centennial, Colorado. "That said, there are several alternatives to simply paying the new increased rates that Colorado home-buyers can employ, and it starts with a fundamental understanding of how mortgage insurance works."
Unlike conventional loans that require no private mortgage insurance (PMI) if a down-payment of 20 percent has been made or if there is greater than 20 percent equity between a refinance loan's value and a home's new appraisal value, all FHA loans require MI. The changes that went into effect recently mean that FHA loans now require 1.35 percent in Annual Mortgage Insurance on homes with less than a 5 percent down payment.
Additionally, an annual premium of .45 percent will be placed on any FHA loan of 15 years or less that has not met 78 percent of its loan-to-value (LTV) ratio, and on top of all this, Upfront Mortgage Insurance Premiums as always, continue to be required. However, the potentially most expensive change, is that FHA MI Premiums are now permanent for the life of the mortgage loan, meaning that home buyers who obtain an FHA loan will not have the ability to cancel the MI in the future, should their home increase enough in value to do so, as many FHA borrowers have been able to do in the past. Sure, FHA borrowers could easily refinance in the future to drop MI, but the risk then is that interest rates will be higher in the years to come, and could be high enough to offset any savings they would get if they could otherwise simply cancel their MI and keep the same interest rate they received when they originally took out the loan.
Click here for a free mortgage rate quote.
For any Colorado home-buyer that can put down 20 percent or more on a home, a conventional loan will circumvent many PMI costs. Another option that savvy Colorado borrowers are choosing is to go with a Single Premium Mortgage Insurance Policy, which allows for the borrower to buyout the PMI upfront, and thus avoid having to pay for any PMI on a monthly basis for the entire life of their mortgage loan. Those home-buyers with salaries of $100,000 or more are also considering a Lender Paid Mortgage Insurance Policy, which allows for the lender to pay for the PMI on their conventional loan in favor of increasing their mortgage rate. The point of this is that PMI is not tax deductible for borrowers in this income bracket, but mortgage rates still are—in other words, this is a loophole for automatic savings. Also, Split-Premium Mortgage Insurance Policies allow those with good credit scores to finance some or all of their PMI upfront and on top of their starting mortgage loan amount, which could leave to hundreds of dollars of saving per month as well.
"It's a brand new playing field for borrowers," says Durland. "But thankfully, with the aid of experienced mortgage professionals, we're seeing borrowers all across the Centennial State save hundreds of dollars every month by getting crafty with their loan choices."