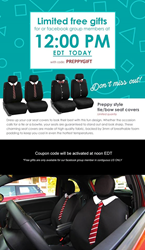 Auto accessories company rewards Facebook followers with freebies and gifts.
Secaucus, NJ (PRWEB) June 02, 2017
Today, FH Group International, Inc., a car accessories company specializing in semi-custom auto seat covers and other assorted auto extras, has announced the official public launch of their new Free Gift Thursdays campaign. New gifts will be revealed every other Thursday with surprises ranging from auto accessories to full fabric seat cover or even leather seat cover sets. And that's not all -- shipping is always included, meaning consumers don't pay a dime. Quantities are limited and with a huge event like this, gifts are sure to be snatched up fast.
After the success of the introduction of their Facebook group, FH Group is noticing an influx in their follower base and is seeking to reward their customers with freebies and fun gifts as a thanks for lifting the social media page off the ground. All ladies and gents who join the Facebook group are eligible to claim their complimentary gift every other Thursday. On top of Free Gift Thursdays, the group is also home to plenty of other deals and sales. Members also have the option of receiving notifications and updates directly to their inbox to keep up on the latest news and promotions. This might prove especially handy in tracking down the big reveal of Free Gift Thursday's special freebie for deal hunters.
Branching out to Facebook's audience has proven successful for FH Group, attracting more attention to their merchandise and driving more traffic to their website. Marketing manager Mitchell Wang said, "We're really in awe of the response to the introduction of the group. Our customers really make us who we are and we want to just reach out to them and give them something back. We hope Free Gift Thursdays can show at least a little bit of our appreciation."
FH Group's promotional gifts are shrouded in mystery. They can range from smaller things like their TravelBrite line of silicone car accessories to more expensive items less expected to be given away at no cost, like fabric seat covers or even luxurious leather seat covers. The freebies in question are only to be announced on the morning of the event, so customers should keep a close eye on the group every other Thursday to be sure they won't miss out on any unbelievable deals.
More and more new products are being added to the FH Group roster of merchandise all the time and watching their catalog grow tells a tale of a company that learned to communicate with its consumer base. New styles, materials, patterns, and even entirely new features are being introduced all the time to keep up with customers' wants, needs, and desires. The world of social media, and in particular, Facebook, has allowed FH Group to connect more with their clients, making it easier than ever to collect feedback and make the best products they possibly can.
And now with Free Gift Thursdays, customers are encouraged to come a little closer and join the party. By joining the Facebook group, not only will members gain access to complimentary gifts and other deals, but it also creates a direct bridge for communication between company and client. "We can start to build relationships," Wang says. "If people feel like they have something to say, they feel more comfortable saying it to us in the group than some corporate Contact Us page. We thrive off of feedback. Customers make us who we are."
With the way business is booming for FH Group International, Inc, consumers can be sure to look forward to more campaigns, sales, events, deals, and all kinds of fun as the company celebrates more milestones.
About FH Group International, Inc.
Founded in 2008, FH Group International, Inc. originally set out to provide a balance between expensive (but perfectly fitting) custom car seat covers and affordable (but poorly fitting) universal car seat covers. The result was their line of semi-custom seat covers, designed to fit most years, makes, and models of vehicles on the market at an affordable price without any sacrifice on quality. In addition to car seat covers, FH Group also offers other assorted auto accessories to provide a variety of answers to all of life's questions.
Learn more and view the entire FH Group collection at http://www.fhgroupauto.com.
Address: FH Group International Inc., 265 Secaucus Rd, Secaucus, NJ, 07094
Tel : 201-210-2426
Email : info(at)fhgroupauto.com