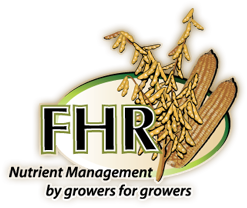 This seminar is going to bring farming back to what we new before the advent of GMO's, and look at innovative ways to improve crop health and yields. - Keith Schlapkohl
Stewartville, MN (PRWEB) December 05, 2013
FHR, Inc. today announced the dates for its two-day seminar, slated to be held on December 16th and 17th at its corporate headquarters in Stewartville, MN. Back to Basics: The ABC's of Fertility will focus on taking a deeper look into crop fertility basics and providing growers with a road map to achieve maximum yield results. Attendees of the seminar will be provided with tools to help them find the best solutions for their individual farms, and will also be equipped with practices for improving operations. Several distinguished speakers with various backgrounds will present topics in their areas of expertise.
Agriculture in the modern world is heavily reliant on technology, and leans on the "quick fix" of genetically modified organisms (GMO's) that are widely promoted within the industry. While FHR acknowledges the critical role of technology in agriculture, its philosophy of biological farming is centered on a high management input system producing non-GMO crops. This will be a focal point of the upcoming seminar, which will cover the topics of soil, fertilizers, crop health, water, machinery and technology.
FHR stands apart in the industry by placing education at highest priority, quickly followed by its top-quality product offering. "If we aren't able to be looked at as experts in the field, then who would trust our products?" says Keith Schlapkohl, part owner of FHR and long-time farmer in Eastern Iowa. "This seminar is going to bring farming back to what we knew before the advent of GMO's, and look at innovate ways to improve crop health and yields."
Keith Schlapkohl puts the FHR philosophy into practice on his own 1,000-acre farm in Stockton, Iowa. He produces non-GMO corn and soybeans, and farms biologically utilizing the FHR nutrition program. During the drought of 2012, he was able to produce an average corn yield of over 230 bushels per acre, beating the Iowa Scott County average by more than 100 bushels per acre. Keith will be sharing the expertise he has gained through 40+ years of farming experience during his presentation at FHR's upcoming conference.
For a complete schedule or to pre-register for the conference visit http://fhrfarms1.com/blog/december-16-17back-to-basics-the-abcs-of-fertility/ or call 877-907-1444. Registration is $55 per attendee; food will be provided.
About FHR
Built on the foundation of veteran agricultural experience, FHR's mission is to bring a synergistic relationship between man and land, while creating products that pursue the highest standards in the industry. Through this relationship, FHR aims to provide high-quality industry education and build long-term partnerships of success by using soil science, microbiology, and plant physiology. For more information, please visit the company website at http://www.fhr1.com.