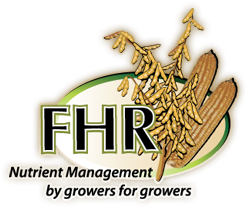 There is no easy button when it comes to farming and it takes time to build a healthy soil profile. - Keith Schlapkohl
Stewartville, MN (PRWEB) January 14, 2014
FHR, Inc. is hosting a one-day seminar in Perrysburg, OH, sponsored by Black Swamp Ag, Inc. Set to be held on January 20th, the Farm to Plate seminar will provide attendees with a road map to practicing sustainable agriculture while achieving maximum yields.
Attendees at the event will hear from farmers, crop consultants, and agronomists about different tools to help improve their individual farming operations. The topics covered will center on crop nutrition, fertilizers, soil health, technology, and machinery.
FHR's goal is to provide farmers with the tools and knowledge necessary to farm sustainably and with maximum return on investment. With increasing land prices and increasing demand for food, it is important that farmers can make their dollar go further while still increasing production. The presenters at this event are equipped with tools to provide solutions for this growing need. With education at highest priority, FHR Inc. continues to reach out to farmers across the nation to help them improve their operations.
The company emphasizes the importance of obtaining a healthy soil profile by using a high management biological farming approach. "There is no easy button when it comes to farming and it takes time to build a healthy soil profile," says Keith Schlapkohl, farmer and Vice President of FHR. "Our soil quality and health didn't deteriorate overnight. By putting micro nutrients back into the soil and feeding the plant, farmers will be able to see an increase in yields and in turn an increase in their profits."
For a complete schedule or to pre-register for the Ohio Farm to Plate conference call 877-907-1444.
About FHR
Built on the foundation of veteran agricultural experience, FHR's mission is to bring a synergistic relationship between man and land, while creating products that pursue the highest standards in the industry. Through this relationship, FHR aims to provide high-quality industry education and build long-term partnerships of success by using soil science, microbiology, and plant physiology. For more information, please visit the company website at http://www.fhr1.com.