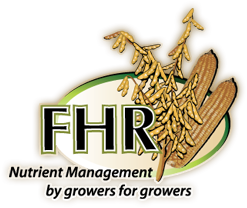 It is important that we provide the link to what we do as farmers and the impact it has on our food and health. - Jeff Littrell
Stewartville, MN (PRWEB) January 21, 2014
Leading nutrient management company FHR, Inc. has announced the dates for its 5th Annual Farm to Plate seminar to be held January 27th - 29th at the FHR corporate headquarters in Stewartville, MN. The three-day event will be centered on all aspects of agriculture, from crop production to consumption, examining solutions to improve farmers' returns and food nutrition. The theme of the conference is to demonstrate the impact farming has on the quality of food and life. Attendees will hear from several experts in the fields of agriculture and human nutrition.
As the food and agriculture debate rages on, FHR is focused on bringing farmers methods to help them improve their operations, from both a revenue and an environmental perspective. The focal point of the upcoming seminar will be a full-circle, energy-dense, biological nutrient management system designed with a step-by-step process to producing Non-GMO crops. Speakers will present on a wide array of relevant topics over the course of the three days, including corn on corn no-till, ROI in a uncertain commodity market, how to do more with less, make each trip across the field be the most efficient, and grow more off the same acre.
"We are excited to continue our Farm to Plate conference series for a 5th year," said farmer, founder, and CEO Jeff Littrell. "FHR is fortunate to be able to bring experts like Dr. Don Huber, an agricultural veteran and Non-GMO front man, to our seminars. The difference in a full circle system is not growing a commodity, but a nutrient dense product grown for a specific market, and tracked so the end user can see the quality control involved in the production of the product. It is important that we provide the link to what we do as farmers and the impact it has on our food and health. It seems sometimes the connection is lost."
To supplement the agriculture-centered speaking sessions FHR has also secured a lineup of medical professionals as part of an exclusive presentation, Evening with the Doctors, to be held at the Rochester, MN International Event Center the night of January 28th. Attendees will have the opportunity to hear leading experts bridge the gap between farmers and consumers. Topics will include how food is our medicine, labeling concerns, and what it means to the consumer and farmer. Discussion will go beyond organic foods to provide an understanding of nutrient dense foods.
For a complete schedule or to pre-register for the Farm to Plate conference visit http://fhrfarms1.com/blog/january-27-29-2014-farm-to-plate/ or call 877-907-1444.
About FHR
Built on the foundation of veteran agricultural experience, FHR's mission is to bring a synergistic relationship between man and land, while creating products that pursue the highest standards in the industry. Through this relationship, FHR aims to provide high-quality industry education and build long-term partnerships of success by using soil science, microbiology, and plant physiology. For more information, please visit the company website at http://www.fhr1.com.