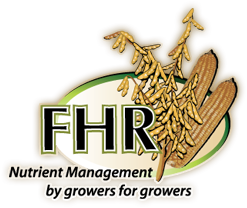 The introduction of Nutra-Max Nitrogen and Residue Digester represents a big step forward for FHR. - Megan Pudenz, VP of Marketing
Stewartville, MN (PRWEB) November 15, 2013
FHR Inc., an innovative nutrient management company dedicated to producing high-quality agricultural products and educational resources, today announced the expansion of their current product line to include Nutra-Max Nitrogen and Residue Digester.
Nutra-Max Nitrogen is an additive for nitrogen or a stand-alone product containing 8% nitrogen. Jam-packed with micro and macronutrients, it presents a natural alternative for fish-based products and poly-based stabilizers for nitrogen. Nutra-Max Nitrogen is fortified with FHR's signature B-Hume product, as well as specific bacteria species used to aid the formation of roots and the nutrients around the roots within the soil matrix.
Residue Digester has a full compliment of micro and macronutrients, along with FHR's B-Hume product. The specific bacteria added to this product aids in the degradation and breakdown of crop residue, ensuring that nutrients are available for the next crop. Residue Digester is effective in eliminating a viable natural habitat for diseases, and also reduces trash build-up while simultaneously building humus.
Dedicated to bettering soil biology and benefiting the environment, these products are both zero-detect for glyphosate, a chelating agent showing to have a negative impact on plant health and yields.
"The introduction of Nutra-Max Nitrogen and Residue Digester represents a big step forward for FHR," asserts Megan Pudenz, Vice President of Marketing. "We take special care in the development of each product to ensure the best possible results for our farming customers, and believe both of these offerings will have a monumental impact on their crop yields."
Hot off the heels of this launch, FHR plans to continue improving and expanding its product offerings with the end user in mind. FHR's dedication to its customers, paired with its passion for soil and fertility, allows the company to innovate and develop new options for improving overall soil balance – a key component in achieving maximum yields.
About FHR
Built on the foundation of veteran agricultural experience, FHR's mission is to bring a synergistic relationship between man and land, while creating products that pursue the highest standards in the industry. Through this relationship, FHR aims to provide high-quality industry education and build long-term partnerships of success by using soil science, microbiology, and plant physiology. For more information, please visit the company website at http://www.fhr1.com.