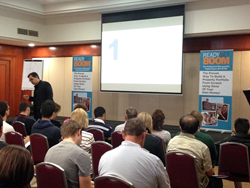 ...with the changes in the economy and the cost of living, what was practical before is no longer practical today
(PRWEB) May 25, 2014
The 2014 Federal Budget scrapped the First Home Savers Account (FHSA), which provides first home buyers around the country with tax breaks and contributions from the government, News.com.au reported on 16 May 2014.
FHSA previously awarded people saving up for a home deposit with tax breaks and monetary subsidy.
"Government programs like the FHSA have helped alleviate some of the difficulty first-hombuyers faced when saving for a deposit. Therefore, the removal of the FHSA will be no doubt met with some level of frustration among first homebuyers who can never seem to come up with the cash to buy a home," according to Rick Otton, host of the much awaited seminar tour Ready, Set, BOOM.
Mr. Otton then said in a recent interview that Aussies shouldn't worry about their chances of becoming home owners even if financial assistance from the government has dwindled.
"The truth is you don't really need government subsidy to buy houses for sale, since there are other ways Aussies can purchase property without paying a huge deposit or taking out a new bank loan. We've just been conditioned that we need a lot of cash to get a home, because that's how things have been done for a very long time. However, with the changes in the economy and the cost of living, what was practical before is no longer practical today," commented Mr. Otton.
"That is why it's very important to come up with creative solutions to solve modern problems. An example of a creative real estate solution is through seller finance. Under this process, sellers and buyers can agree on flexible payment terms. Rather than take out a new loan, a buyer can assume the existing financing and pay the remaining equity in increments. In this way, the seller is able to relinquish unwanted debt and create an immediate cash flow stream. It's a convenient solution which makes the process of buying and selling much quicker and much more efficient," said Rick.
Join Rick Otton in the second round of his Ready, Set, BOOM national tour in Melbourne on 29 June 2014, Sunday, and 30 June 2014, Monday. Visit readysetboom.com.au today to reserve your free seat.
For over 23 years property millionaire Rick Otton has built an impressive real estate portfolio using innovative strategies that he has developed – strategies in which transactions are made without the need for traditional bank-type loans.
He constantly refines his techniques as he buys and sells properties through his We Buy Houses business which operates in Australia, New Zealand and the UK.
A gifted speaker and educator, Mr Otton conducts regular workshops across Australia, which build on the the concepts he shares in his 2012 book 'How To Buy A House For A Dollar', voted by Money Magazine and Dymocks Book stores as one of the Top 10 Most Popular Finance Titles for 2013.
He regularly records and publishes iTunes podcasts via his channel Creative Real Estate.
His innovative low-risk, high-reward approach to Australian real estate investing has been featured in a variety of television programs and magazines, including Today Tonight, Hot Property and Australian Property Investor.
To register for one of Mr Otton's free upcoming Australian seminars, visit ReadySetBoom.com.au or phone, in Australia, 1300 888 450.