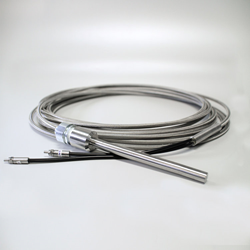 There is no need for cuvettes or sample transference and the optics of the in-situ fiber optic probes are all that is needed to get a reliable reading.
Staten Island, NY (PRWEB) January 13, 2017
FireflySci, in response to several customers' inquiries, has teamed up with several companies to offer its customers three new solutions for measurements where traditional cuvette applications are not convenient. For instance, a fiber optic probe would come in handy if a customer has an oddly-shaped sample that would not fit into a typical cuvette inside a spectrophotometer. In fact, probes are ideal for any application where the sample cannot be brought to the spectrophotometer. This includes things like in-situ measurements where there is a highly corrosive environment, whether it be high pressure, temperature or chemical adversity.
All of the new FireflySci fiber optic probes are built out of extremely robust 316 Stainless Steel and can withstand temperatures of -5ºC all the way up to 204ºC and pressures of to 2,000psi. A user needs simply to introduce one of the probes into this environment and connect it back to their spectrophotometer via SMA-905 fiber optic connectors. There is no need for cuvettes or sample transference and the optics of the in-situ fiber optic probes are all that is needed to get a reliable reading.
FireflySci has three categories of new fiber optic probes, all of which are customizable. The first of these is the reflectance probe. The new ATR Fiber Optic Probe is designed for highly absorbant samples between 3,000-5,000au/cm and is frequently used in applications such as pure inks, dyes and crude oil samples. The stock optics are FireflySci's UV Quartz material, giving the probe an operational wavelength range of 190-2,500nm. The optics can also be modified to any particular window the user specifies, such as sapphire. The ATR fiber optic probe bifurcates and connects to a light source on one end and the spectrophotometer on the other.
In addition to this, FireflySci also is offering two different variations of its transmission fiber optic probe: a single pass and a double pass. The single pass is best for samples with low concentrations and features a 1-8mm lightpath while the double pass is for highly concentrated, dark samples and has lightpaths of 5-20mm. These transmission probes enable an inline measurement of gas or liquid sample streams in highly corrosive environments. These are frequently referred to as "dip probes" and enable the fiber optic probe to be placed into the sample and get real-time measurements from the sample.
The final offering is FireflySci's Fluorescence Front Surface Fiber Optic Probe, which is designed to measure the surface fluorescence of liquids, solids, pastes or sludges. The user only needs to wet one side of the window for analysis to occur. The combination of shallow penetration depth needed and the concentrated focus reduces the inner filter effect, which gives it a large advantage in accuracy of measurement over other brands. The fluorescence fiber optic probe comes standard with sapphire windows for excitation/emission data collection.
All of FireflySci's new fiber optic probes come with a quality guarantee and can be tailor-made to an end-user's exact specifications. As the company grows, it is looking forward to providing its loyal customer base with an expanding line of new and better products.