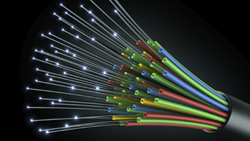 Solveforce provides industry tips on Fiber Optic Network services
Raleigh, NC (PRWEB) December 04, 2015
There are many benefits to a fiber optic network (http://fiberoptics.us.com/). The term itself refers to a means of transmitting digital data by way of light pulses through optical fibers made out of plastic or, more commonly, silica glass. The other common means of transmitting information is called electrical transmission, and in some ways it pales in comparison to fiber optic technology. Electric networks are connected by copper wires that communicate electronically, however over large distances these metal cords are not efficient or cost-effective. Optical cables are more reliable and faster than their metallic counterparts.
Of course, there are still benefits to electric communication methods; over short distances, the materials are cheaper, as is the technology used to retrieve the signals. In addition to this, copper wiring is able to transmit electricity in addition to data - something that optical fibers are not able to do.
For data to be transmitted via optical cables, there must be a device called a receiver at either end of the cable. The receiver converts the information stored on the light pulses into information that is readable by a computer. Because they can transmit data over long distances and are simple to install, fiber optic cables are usually routed under buildings and linked up to create large networks that can communicate vast amounts of information quickly and efficiently.
Before fiber optic cables, there was the Photophone, an invention created by Alexander Graham Bell. It is considered the predecessor to optical data transmission. The Photophone successfully transmitted sound attached to a beam of light. It did this using the atmosphere as a medium (the technology for optical fibers was not yet available), and was thus highly inefficient. Nonetheless this device set the stage for the fiber optic networks (http://fiberopticinternet.us.com/) that we have today.
In the 1970's the technology to efficiently transmit optical data was invented and immediately used to transmit telephone signals. It was seen as a potential replacement for the metal wires that were currently in use for this purpose. The optical fibers were not yet perfected though, and it was some years before this new communication system could be implemented in a practical way.
In recent years, internet and telephone companies have applied optical data transmission to their services, creating enormous networks of information transmission. The benefits of this type of communication have led to higher internet speeds, allowing users to watch video online and quickly access internet information.
Because optical fibers are immune to electromagnetic interference, the signals are transmitted to the receiver at high quality. There is little loss of signal strength or integrity. This is not true of electronic communication - a process that is highly susceptible to outside interference. This interference causes a weak signal and poorer quality data. This is also true of satellite transmissions, which are often used for extremely long distance communication. Optical fibers however, even at transatlantic lengths, are significantly more reliable, allowing for high quality communication despite long distances.
A fiber optic network can be useful in transmitting large amounts of data at extremely high speeds. This makes these networks very useful for internet, telephone, and cable providers, and they can deliver superior sound and images to their customers.
About Solveforce Fiber Optic Internet
Fiberoptics.us.com/ is managed by SolveForce, a Master Agency that offers its consulting services in North Carolina, and has been providing business solutions since 2004. They are recognized all over the globe as a private ethernet & telecom consulting agency that offers advisory and auditing services for the telecommunications and Internet industry. Founded by Ron Legarski, this master agency has accomplished many awards and achievements. With high quality telecom and Fiber Optics (http://internetfiber.biz/) to offer, the company's future plans are to integrate even more cities and companies in their coverage areas and remain the leader in the telecom & internet solutions industry.
SolveForce.com, LLC can be reached at 888-765-8301 via toll free or visit one of their real-time quoting websites at http://www.solveforce.com/north-carolina/.