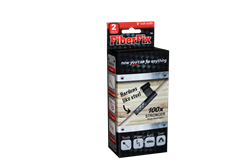 Bonding with plastics, woods, metals, and PVC, the permanent repair solution can be utilized to fix almost any break.
Issaquah, WA (PRWEB) June 02, 2014
TheHardwareCity.com is continuously enhancing their catalog, giving consumers the opportunity to purchase various home improvement tools and products from the trusted online retailer. This month, the hardware store has added FiberFix, a new repair wrap that has people praising its abilities.
FiberFix is made with industrial strength fiber and a specialized epoxy. Bonding with plastics, woods, metals, and PVC, the permanent repair solution can be utilized to fix almost any break. Users simply submerse the wrap in water and wrap it around the break while removing excess water. Within 10 minutes, the product hardens like steel, allowing the broken tool to be put back to use in little time. Since the solution requires no tools, it offers a simple and quick solution that can save money. Instead of purchasing a new tool, pipe or equipment part, consumers can remedy the problem with FiberFix. Visit http://www.thehardwarecity.com to purchase the repair solution and have it on hand for the next pipe, handle, or car hose break.
The popular repair wrap that is now available at TheHardwareCity.com has appeared on the hit ABC business-themed show, Shark Tank. Close to a million FiberFix wraps have been sold, proving widespread appeal of the product. Demonstrative videos are available on the FiberFix website, http://www.fiberfix.com/, which include repairing a bicycle, a main water pipe, and a bench press. Also displayed are other tools that can be repaired easily with the product: a wheelbarrow, a chair, a vacuum hose, and a shovel.
The repair wrap comes in three different widths: 1-inch, 2-inch, and 4-inch. Once it is dry, it is completely waterproof, and therefore can be used both indoors and outdoors. The finished product can be sanded and painted. Offering a permanent repair solution that is stronger than duct tape, FiberFix can withstand all temperatures. TheHardwareCity.com provides its customers the opportunity to purchase this new and innovative product along with many others and have it delivered to their home or office.
About TheHardwareCity.com:
TheHardwareCity.com opened its large online hardware store in 2007. Continuing to present the latest in home improvement, the online store adds new tools to its catalog frequently. Offering discounts on many quality products, consumers can find an easy way of shopping and saving money. Hardware and tool specialists are available for online chat every weekday to answer questions about products sold in the store's numerous departments, including home hardware, industrial supplies, paint, power tools, building supplies, and more. View the store's numerous products at http://www.thehardwarecity.com/.