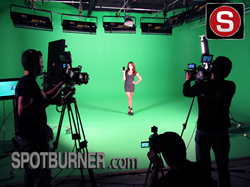 The ability for any company to have its own video channel is now a reality
Westlake Village, CA (PRWEB) November 19, 2015
Video content is becoming the fastest growing tool to engage people with brands. Digital Marketer Spotburner has developed an innovative process which streamlines video production and distribution.
"The ability for any company to have its own video channel is now a reality," said Spotburner President, Bob Bekian. "Not only can businesses tell their stories in the most compelling way possible, they can also describe their products and services in detail, launch new products, promote events, and provide valuable content for their brands, 24/7." This content can now be developed, produced and delivered at less than half of the traditional cost in about half the time it previously took.
When combined with Spotburner's content creation and video production capabilities, proprietary distribution methodology, and real-time analytics, the results can be powerful. "From the very beginning, our goal has been to create an integrated, all-in-one solution that helps our clients see a real difference in their bottom line for a fraction of usual cost," Bekian continued.
Spotburner has developed a proprietary process for creating and distributing video based on a history of producing over 800 commercial spots for companies like Coca Cola, Tecate, Lamborghini and CDW. The Company has invested deeply in technology which delivers content quickly and "future-proofs" it in 4K. The addition of the high speed fiber distribution system now allows clients to access approval files from their mobile devices anywhere in the world in real time.
Working with a single provider also cuts weeks – or even months – out of the schedule. Because the agency has a 5000-square-foot HD studio, postproduction facility and a team of seasoned video production professionals they can produce top-quality video and upload it to any client device for approval in about a week.
Spotburner's partnerships with ad agencies, television networks and digital distribution companies ensure that their clients' messages get seen by the right people, at the right time. What's more, Spotburner can repurpose video for use in emails, as pre-roll ads, in social media, or on cable television, which allows brands to get more digital marketing options for their investment.
Spotburner specializes in creating integrated marketing solutions for healthcare/pharma, renewable energy, automotive, and manufacturing companies. Spotburner's recent client list includes Amgen, Hospital Corporation of America, Acura, and LA Solar Group and Turf Exchange.
For more information, contact Bob Bekian at (818) 483-1385