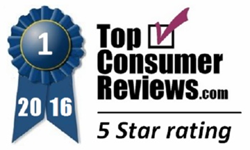 From reduced pain flare-ups to relief from headaches and joint pain, Fibro Freedom delivers what it promises.
Overland Park, KS (PRWEB) September 29, 2016
TopConsumerReviews.com recently gave a best-in-class 5 star rating to Fibro Freedom, a leader among Fibromyalgia Products.
Millions of people suffer from Fibromyalgia, a painful condition that can include fatigue, joint and nerve pain, headaches, and difficulties with sleep. Although prescription medications are typically used to deal with Fibromyalgia, they can be accompanied by serious side effects. That is one reason why many sufferers opt to combat their symptoms through lifestyle modifications, such as diet and exercise. Additionally, the use of natural products in helping with Fibromyalgia symptoms shows great promise, with an ever-increasing number of patients reporting significant decreases in their pain and fatigue after continued use of such supplements.
"Fibro Freedom is the most complete Fibromyalgia product on the market," explained Brian Dolezal of TopConsumerReviews.com, LLC, "and across the board, users report impressive results. From reduced pain flare-ups to relief from headaches and joint pain, Fibro Freedom delivers what it promises. Better yet, the makers of Fibro Freedom offer a 30-day money-back guarantee, making it virtually risk-free to give it a try. With a low monthly cost of under $50 and such relief for Fibromyalgia sufferers, Fibro Freedom can make a real impact on people's lives. We give Fibro Freedom our top ranking in 2016 among products used to relieve the symptoms of Fibromyalgia."
To find out more about Fibro Freedom and other products for relieving the symptoms of Fibromyalgia, including reviews and comparison rankings, please visit the Fibromyalgia category of TopConsumerReviews.com at http://www.topconsumerreviews.com/fibromyalgia/.
About Fibro Freedom
Fibro Freedom is a product of ProHealth, a trusted alternative medicine company. Founded in 1988, ProHealth has been driven by a critical core mission: to support sufferers of Myalgic Encephalomyelitis/Chronic Fatigue Syndrome and Fibromyalgia by offering world-class nutritional supplements and other products that make life easier for patients with those conditions, and targeted news, information, and community access. ProHealth's website is the biggest online resource center for patients and their families with Fibromyalgia and Chronic Fatigue Syndrome.
About TopConsumerReviews.com
TopConsumerReviews.com, LLC is a leading provider of independent reviews and rankings of hundreds of consumer products and services. From Fibromyalgia to Insomnia and Elliptical Machines, TopConsumerReviews.com delivers in-depth product evaluations in order to make purchasing decisions easier.