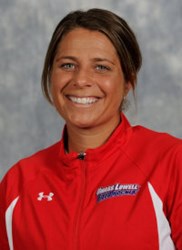 San Rafael, CA (PRWEB) February 19, 2014
US Sports Camps is proud to announce a Division I coach in their 2014 camp line-up. The UMass Lowell Field Hockey Program became a Division I team last fall, promoting Coach Hlebichuk to the highest coaching honors possible in collegiate sports. In addition to the long standing Northeast Field Hockey Academy at Governor's Academy, in Byfield, we are proud to announce another outstanding camp location in Chelmsford, MA.
The River Hawk Field Hockey Academy at Chelmsford High School offers two programs to fit the needs of all ability levels. The full day camp is designed for players, ages 9 to 18, with a focus on the basics to more advanced skills, position play, field hockey fundamentals and team strategy. The half day camp is open to ages 6-9 creating an encouraging environment for young players ready to learn the basics of the game and eager to fall in love with the sport.
Campers looking for an overnight field hockey camp experience can look to Northeast Field Hockey Academy at Governor's Academy. This summer will mark Northeast Field Hockey Academy's 38th year. The Academy hosts one session each summer attracting over 100 players. The instruction is serious and the coaches are of the highest caliber. The Academy features morning individual skill and stick work sessions, small sided afternoon games stressing tactical game situations and evening competition, creating the perfect training environment for players of all ability levels.
Train with the best under the direction of a Division I coach this summer and bring your game to a whole new level.
About US Sports Camps
US Sports Camps (USSC), headquartered in San Rafael, California, is America's largest sports camp network and the licensed operator of NIKE Sports Camps. Celebrating its 40th anniversary year, the company has offered summer camps with the same mission that defines it today: to shape a lifelong enjoyment of athletics through high quality sports education and skill enhancement.
Players, coaches, parents and others interested in the 2014 Nike Field Hockey Camps can visit ussportscamps.com/fieldhockey/ or call 1-800-645-3226.