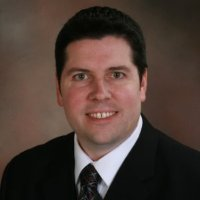 We welcome Jim's experience, enthusiasm and tremendous track record of customer satisfaction to our growing team.

-Harvey Shovers
President of MSI Data
Milwaukee, WI (PRWEB) September 12, 2013
MSI Data, a leading provider of field service software and inspection software, has named Jim Robinson as its new Vice President of Professional Services. Jim brings nearly 20 years of experience in field service management and business process automation, including 18 years at WennSoft. Most recently, Jim's title was Business Solutions Architect and Sr. Project Manager at WennSoft, a position in which he provided direct coaching and leadership to customer senior management personnel to accelerate business process automation.
Jim's position, Vice President of Professional Services, is new for MSI Data and reflects the company's growth and continued investment in helping customers to achieve their business objectives through successful deployment of MSI's field force automation applications. In this new role, Jim will develop strategy and provide internal and external leadership to drive customer results through cohesive solution selling, product implementation, and technical support.
"When I started looking at MSI Data, I considered the people, the suite of products, and the approach," said Jim. "I was excited to find a company that delivers everything from graphical tools for back office CSRs and dispatchers to mobile solutions for disconnected technicians to interactive dashboard and alert solutions for leadership-- all in an easy-to-acquire subscription model."
Jim is a leader in the field service automation industry with nearly two decades of experience in national and global enterprise software implementation, field service automation, construction project management, full software development life cycle leadership, consulting program/project management and business process re-engineering. He is also a certified public accountant and brings business and software expertise to MSI Data's growing team.
"I was impressed with the talent pool MSI has assembled, including field service software veterans, Microsoft alums, and developers with years of direct customer experience," Jim said about why he joined MSI Data. "I think it is this experience coupled with its 'customer first' attitude that enables MSI to make the right decisions for customers."
"Having great software is only part of our solution. It is equally important to have a professional services team to meet the customers' expectations," said Harvey Shovers, President of MSI Data. "Jim's leadership and experience will help our thousands of current end users and new customers in the future to achieve the productivity gains that they have not been able to get with older, complex solutions."
Jim specializes in program, project, and product management. His leadership skills and management expertise support MSI Data's continued goal of exceeding customer expectations and streamlining sales and implementation processes.
"MSI searched the market for the past 12 months to find the right skill set: industry expertise, field force software expertise, and the enthusiasm to serve a large market. Jim Robinson meets and exceeds all of the criteria," said Shovers. "We welcome Jim's experience, enthusiasm and tremendous track record of customer satisfaction to our growing team."
About MSI Data
MSI Data develops enterprise, scheduling and mobile software that helps companies improve the productivity of their field workforce. World class service organizations rely on MSI Data's powerful suite of field workforce software to automate field service, repair, inspections, scheduling, audits and other critical field-driven business processes. MSI Data replaces paper, legacy enterprise systems and disconnected spreadsheet-based business processes with highly efficient, end-to-end processes through the combination of mobile technology for field workers and ERP, CRM and accounting systems integration. Whether deployed in the cloud or on-premise, MSI field workforce software applications are easy to acquire, easy to deploy and deliver enterprises with rapid return on investment. For more information, please visit http://www.msidata.com.