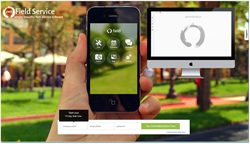 Dealing with many different service companies over the past 13 years has thought us a lot about what a service company looks for in software
Dublin, Ireland (PRWEB) April 03, 2014
Service company managers, take note....
The days of having to settle for bloated, resource-intense field service management systems is numbered. ZenFieldservice ushers in a new approach to service business management software, one that is client-focused, simple to use and fully customizable. ZenFieldservice is truly field service nirvana.
Since 2001, ZenFieldservice has been providing job management and scheduling software to service businesses under the name of FSM Field Staff Manager. The popular software enabled service companies to manage a team of field service technicians over the web and deliver work items directly to their mobile devices. To date, the software has delivered over a million work orders for happy clients.
"Dealing with many different service companies over the past 13 years has thought us a lot about what a service company looks for in software" says Tony Casey (founder and CEO).
After gathering these insights and looking at how some of the other software companies have "Zenned" their solutions such as Zendesk and ZenPayroll we felt that the field service SaaS solutions out there also need to be "Zenned". Beautiful interface and beautiful user experience, that is how we "Zen" it, says Casey.
Users are more technically sophisticated than previous generations and expectations of software experiences are higher. A clunky solution will just not cut it in today's market. Enterprise level field service software should be Zen.
Today the service has been released from private beta so any service company that wishes to automate their daily routines can use the system. Companies can sign up for a no obligation 14 day free trial and use the full feature set of the software. After that, the costs are calculated on a per user, per month basis.
About ZenFieldservice:
ZenFieldservice provides an on-demand field service management solution. From initial quotes to final invoicing, every aspect of a service business can be automated through the intuitive online service. The software has delivered over 1 million work orders to field staff since 2001 and any service business can enjoy the zen within minutes.