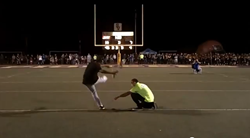 whether or not we gave away the Camaro, I'm proud to have participated in such a successful and life changing event.
Simi Valley, CA (PRWEB) October 25, 2013
Simi Valley local, Invictus Igwe, kicked the biggest field goal of his life on October 18th. It wasn't a game winning field goal, but instead a field goal attempt to win a Chevrolet SS Camaro from Simi Valley Chevrolet. The stunning kick took place during halftime at the annual Simi Valley HS, Royal HS rivalry match up. The bigger story many are talking about however, is how after winning the prize Igwe opted for the cash prize alternative to the fancy sports car.
In a tweet to Simi Valley Chevrolet, Igwe, made the following statement. "@SimiValleyChevy I actually took the $20,000 prize. The #Camaro was perfect, but paying off my debt to establish my life is priority!"
The event was put on by local publication The Life In Simi. According to a representative, the event was promoted through fliers, and all entrants were required to enter via text message. Of the 700 entrants Igwe was chosen at random to attempt the field goal from the 30 yard line at the Simi Valley HS stadium. Igwe was especially fortunate; because of all the entrants he may have been the only one who was a former high school field goal kicker.
In front of over 7,000 attendees, he lined up,stepped back and made the kick. The stunning performance knocked off his Vans shoe which flew nearly ten yards downfield. To make the field goal kick even more miraculous the ball soared through the air then bounced off the right side of the crossbar, just clearing the field goal. The crowd erupted and the entire Simi Valley HS football team swarmed Igwe with hugs.
The YouTube video showcasing the kick just surpassed 750,000 views and has quickly gone viral. After winning, Invictus opted to a flat cast prize of 20,000 rather than accept the souped-up Chevrolet "SS" Camaro provided by Simi Valley Chevrolet.
Simi Valley Chevrolet General Manager, Steve Gaines, stated "whether or not we gave away the Camaro, I'm proud to have participated in such a successful and life changing event."