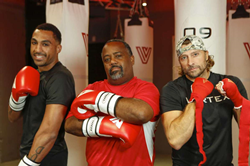 "I wanted to help break patterns that can have negative implications later in life," says Blackwell.
HOUSTON (PRWEB) October 29, 2019
It's an unlikely partnership.
Vortex is a brand new boutique fitness studio nestled in River Oaks, one of Houston's most exclusive neighborhoods. The Urban Enrichment Institute is a nonprofit group devoted to giving boys in the Fifth Ward a better chance to graduate high school, attend college, and find work.
Yet every Friday, they come together. A group of Fifth Ward high schooler's pile out of a bus and into Vortex for a series of training sessions.
They don't just exercise. Their trainers take the time to give them an overall education about health, nutrition, and well-being.
Trey Blackwell is a boxing instructor at Vortex. One of the students in his RIP boxing course told him about the Urban Enrichment Institute. He was instantly interested in helping UEI forward its mission.
Prentiss Collins, Program Manager at the Institute, says the kids who come through his program often struggle with stress and trauma alike. "Vortex aids our mission by allowing these boys to have complete well-being," he says. "They have no place to release stress or anxiety. But if you go to UEI, and you go to Vortex, you get to work out and reduce stress in your life."
"These fitness classes are a great addition to our four-day-a-week core program," says Collins. "On the other days, we're teaching topics like robotics, music production, civic engagement, and leadership."
To learn more about Vortex, visit http://www.vortextexas.com. To learn more about the Urban Enrichment Institute, visit http://www.ueinstitute.org.
CONTACT
Rafael Ucero
(281) 249-5505
ABOUT VORTEX
Vortex is a luxury, boutique fitness studio serving Houston, TX. It's a no-holds-barred, unadulterated fitness experience in a backdrop of absolute luxury. Some of the world's leading fitness experts come together at Vortex to provide clients with power ride workouts, boxing workouts, calisthenics, and cardio training to push them as they've never been pushed before. It's a no-judgment environment: clients put in the effort, trainers help them get incredible results. Visit http://www.vortextexas.com to learn more.
ABOUT UEI
The Urban Enrichment Institute is a youth leadership and development program for at-risk males ages 12 - 19. It's located in Houston's Fifth Ward, one of Houston's most economically depressed neighborhoods. It's designed to help young men become responsible, productive members of their community instead of going down more destructive roads. Visit http://www.ueinstitute.org for more information.