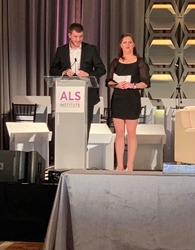 KETCHIKAN, Ala. (PRWEB) November 27, 2018
The Dwyer family has strong ties to Ketchikan and Alaska. Jenny Gore Dwyer was born and raised in Ketchikan. She can trace her family roots back to captain John Gore who sailed with Captain Cook as they tried to discover the "infamous" Northwest Passage. Jenny met her husband Pat on board a fishing vessel in Ketchikan in the mid 1980's and together they started their fishing business, St. George Marine Inc. After her beloved husband passed away from ALS in June 2013, Jenny became sole owner and president of St. George Marine, working with her children Sean and Brenna to continue to run and grow the family business. Captain Sean Dwyer is currently featured in the Discovery Channel's hit series Deadliest Catch. More importantly the Dwyer family has become relentless in their goal of eradicating ALS through the Pat Dwyer Fund.
In 2017 Jenny received a call from an old high school friend, Doug Andrew, from Ketchikan who happens to own hotels and restaurants. His idea was to rebrand one of his restaurants with the purpose of raising funds for ALS. As fate would have it Doug witnessed the scourge of ALS through two long time Ketchikan residents and friends, Bob Norton and Sandy Wendte. With much collaboration and thought Dwyer's Crab and Fish Company was opened in time for the 2017 season and raised $24,000 in its first year of operation. This season Dwyer's Crab and Fish Company was able to donate $26,500 towards ALS research in honor of Pat Dwyer, Bob Norton and Sandy Wendte. This labor of love has been made possible with the support of the residents of Ketchikan as well as the thousands of tourists that flood the area during the summer season. Dwyer's is located on the dock where cruise ships disembark and fittingly oversees the ocean that Pat and Jenny worked on together.
Mother Teresa once said "I alone cannot change the world, but I can cast a stone across the waters to create many ripples." In Ketchikan, Alaska one united family, two longtime friends and a restaurant specializing in King Crab are doing just that; fighting ALS one crab leg at a time.
Ketchikan is an Alaskan city facing the Inside Passage, a popular cruise route along the state's southeastern coast. It's hailed as the Salmon Capital of the World and known for its many Native American totem poles on display throughout town. Nearby Misty Fiords National Monument is a glacier-carved wilderness featuring snowcapped mountains, waterfalls and salmon spawning streams. It's also home to rich wildlife including black bears, wolves and bald eagles.
For more information on the Pat Dwyer Fund visit: http://www.als.net/affiliate/pat-dwyer-fund/
FOR IMMEDIATE RELEASE
Media Contact:
Doug Andrew
Direct Phone: (907) 821-1251
dougktn@gmail.com