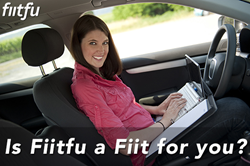 If you think you don't NEED to follow-up with a client, you are missing out on huge sales opportunities in Direct Sales.
Vancouver British Columbia (PRWEB) October 17, 2014
Independent consultants from Direct Sales and Network Marketing companies are learning the importance of keeping good notes on their clients, and storing them in an easy to use format.
With so many options available to keep track of your Network Marketing clients, it is hard to decide on the best choice. However, Fiitfu (an acronym for Fortune Is In The Follow-Up) is designed specifically for people in Direct Sales.
Built by Mary-Jane Mehlenbacher, who was also in network marketing, Fiitfu CRM caters to the needs of people building a home-based business. When meetings are journalized, Fiitfu generates automatic follow-up tasks in a Fiitfu calendar (which can be synced to any web based calendar, and accessed on the Fiitfu mobile app.)
Other features include event tracking, email blasts, expense reports and client profile forms to name a few. Mary-Jane believes that Fiitfu will fill the need that independent consultants have. Mary-Jane quotes, "We hope to help make follow-up fun instead of fearful."
"As I grew my business, I was letting so many people fall through the cracks, let alone all my consultants. I had to stop wasting time, and start following up consistently, so I created Fiitfu!" says Mehlenbacher. "I know the number one reason why people don't stay in this business is because they are spending so much time looking for new clients instead of servicing the ones the have already. If consultants would just stay connected to their customers that have already made a purchase, they would have re-orders, referrals and book more events."
Direct sales is not a small target market, as listed by the Direct Selling Association. In North America alone, there are over 17.7 Million Direct Sales consultants, that create over $40 Billion in annual sales.
Mehlenbacher figures the consultants that will be successful are the ones that regularly follow-up with clients, using cutting edge tools like Fiitfu that can keep track of past client interactions and schedule future connections.
"If you think you don't need to follow-up with a client, you are missing out on huge sales opportunities in Direct Sales," says Mehlenbacher.
Fiitfu has a promotion until October 31, 2014 for New Members
When asked, "Why the promo now?" Mary-Jane says, "Now is the busiest time for all Direct Sales consultants, they should be meeting over 100 clients in the next 6 weeks, they will never remember all their conversations. Now is the time to use Fiitfu, I want them to be successful for 2015, servicing their present customers. In the end it is a real win-win situation".
Fiitfu CRM Solutions Inc: Customer Retention Program designed for women in independent business and network marketing. A "Virtual Office" that can be accessed on any web device. Fiitfu launched in April of 2011 and their head office is in Vancouver, British Columbia, Canada.